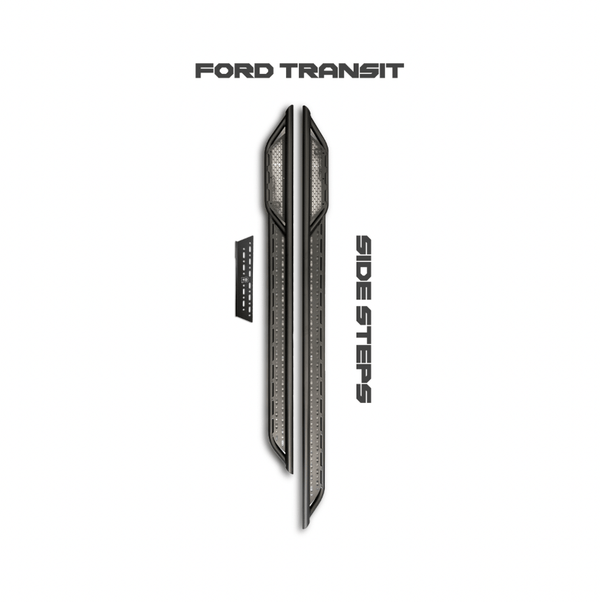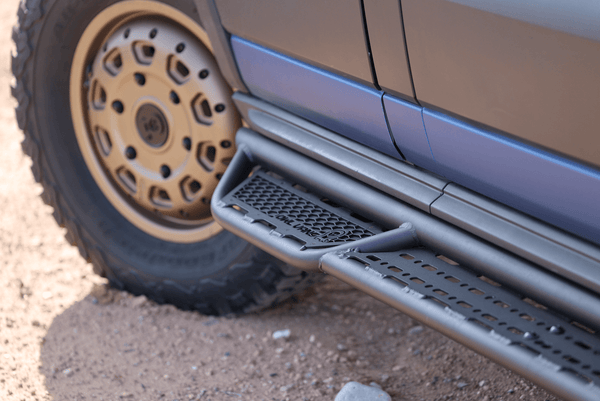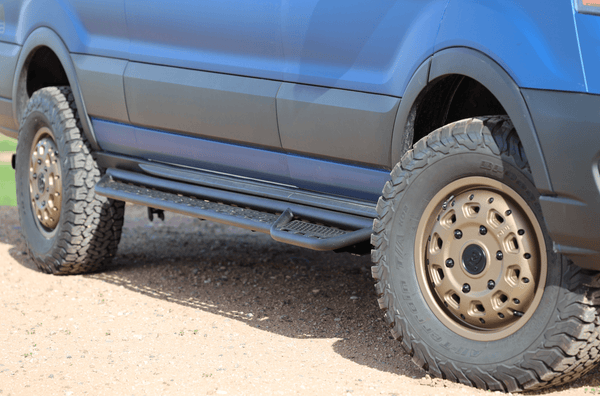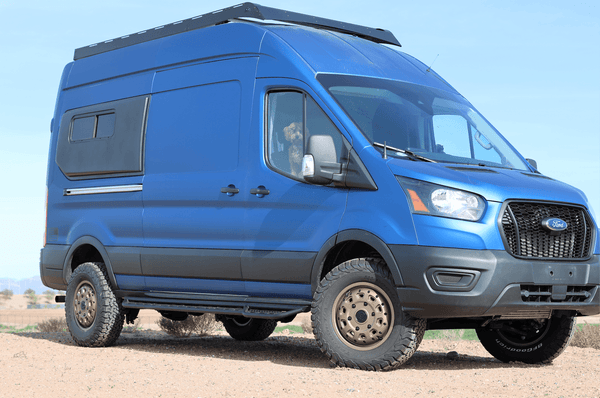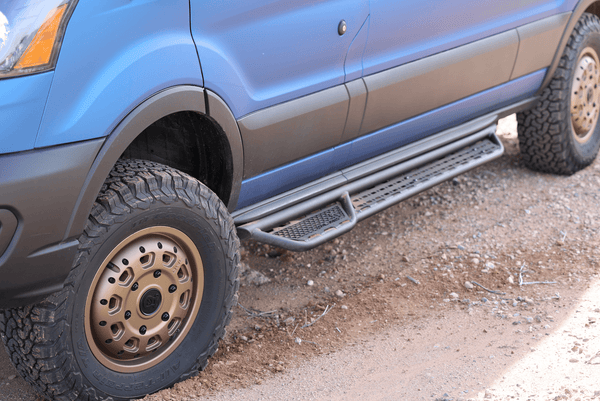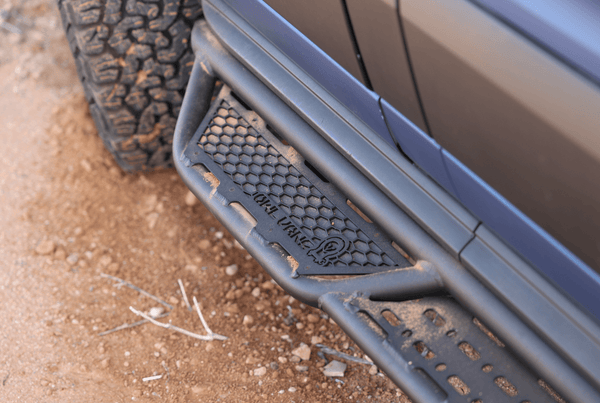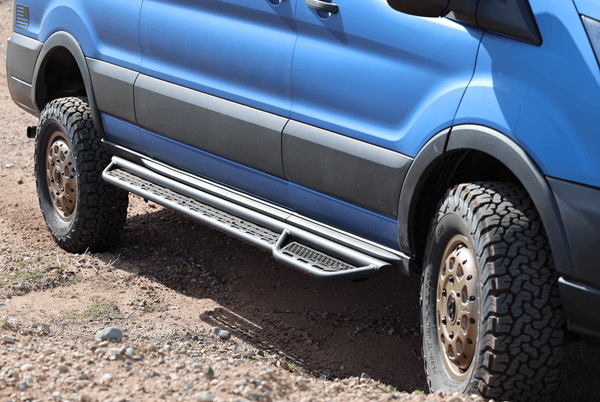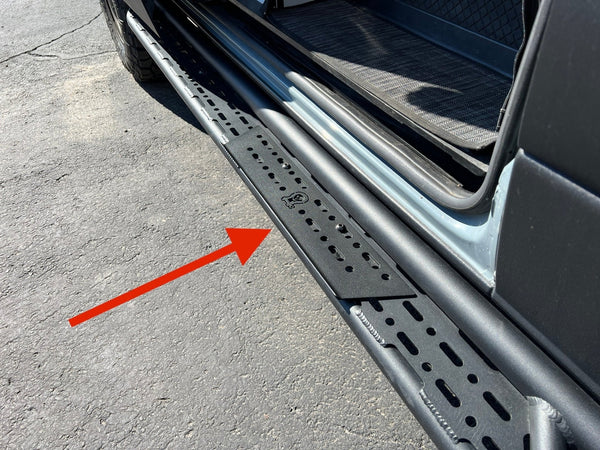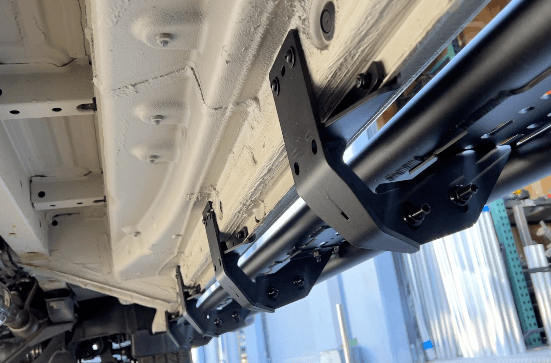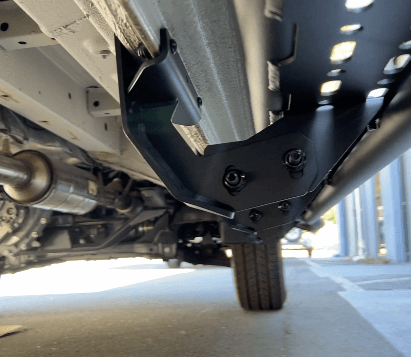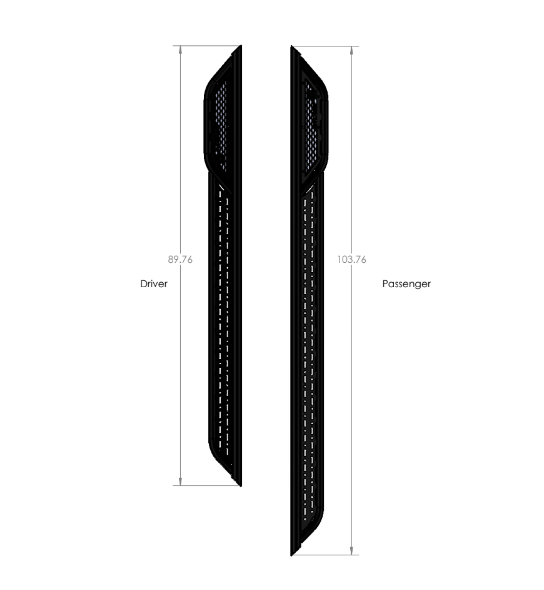 Now one our most popular products for Transit!
Side steps, nerf bars, rock sliders, running boards have many names, but they can be one of the most functional parts of your van regardless of what you call them. There are a lot of critical design criteria that go into a good side step. 

Design: The shape of our sides steps was carefully considered to offer the optimal blend of function and protection. We went big with the front step as it is the most used. Then the side steps taper back toward the rear of the van. This tapered design allows the van to more easily navigate tight terrain and not get hung up on rocks, logs etc. Additionally, we extended the driver's side step almost all the way down the van to offer additional rocker protection and storage.
Size Matters - Vans are big vehicles, and if you're anything like us, you're always trying to squeeze your van down tight trails. Clearance is why we wanted a side step that was high and tight, as they say. We purposely build these side steps to be narrower than most on the market. You're much less likely to get your side steps hung up on a rock or other obstacle. 
Getting In and Out - Getting in and out of the van is the primary use of a side step. We put a lot of focus on this function during the design process. We purposely made them narrow to work on the trail, but we also have an optional removable tread plate. This tread plate not only looks cool but is incredibly functional. Our tread plate adds an upturned lip instead of the edge of the side step falling away from your foot like most tubular steps. This lip catches the shoe entering and exiting the vehicle, and the traction in dry or wet weather is instantly noticeable. As a bonus, we designed it to be a boot cleaner to scrape off dirt, mud, and snow before entering the van. The folks here with test units have fallen in love with this design.
*tread plate is shown raw above, production will be powder coated black
Mountability - Because vans are small and quality gear is expensive, we design multiple functions into almost every part we build. The side steps are laser cut with our signature "Sherpa" hole pattern to mount additional gear. Rotopax, Shovels, jacks, you get to choose your own adventure. 
Aesthetics - Side steps can change the look of a van in both a good and a bad way. We hope you love our new Transit Side Steps' clean industrial lines and modular look! We pushed our design teams to include all the above functional improvements while making a beautiful step. We understand this is all subjective, but the team accomplished their goal if the response so far is any indication.
Pet Friendly - This is one of those items that many people don't think of before purchasing side steps. Since so many of us travel with our beloved furry friends, we thought it only appropriate to keep them top of mind as we designed this product. Pets don't wear shoes, so the top of the step must be comfortable for the pet's paws. Our steps are flat and without any sharp points that pets would step on, making it comfortable for them to use. The most important aspect of pets using side steps is the gap between the step and the van. Pets can be very excited when returning from a big hike or leaving on that next big adventure. Unfortunately, the pet's legs can slide into the gap between the step and the van while entering. We have seen countless dogs break their legs in this scenario. It is hard to talk about but important to think about when purchasing steps. 
Details:
148" wheel base Transits

Material: Tig Welded Aluminum (with a steel tread plate)


Tread Plate sold separately ($49)

Pet Friendly

Works with most side ladders

Color: Powder Coated Black

Mountable - Sherpa hole design allows cargo mounting (limit 20 lbs per side)

DIY friendly install

These side steps are not intended as structural jack points


Rivnut tool needed for DIY kit and STO. Please see link below
Compatibility: 
Transit and Transit AWD 130", 148" & 148 EXT wheelbase
Lead-Time:  Due to demand lead time is currently 4-6 weeks. This is an estimate and stock levels can change quickly.

Important - If you're adding these to a finished custom-built van, installation may require dropping some water tanks, etc. 
*Some relocation of brackets may be necessary to install. 
DIY - Professional install suggested. DIY is straightforward but can be time consuming. Installation: $1200 at an Owl facility 
(removal of any aftermarket equipment such as water tanks etc will be additional)
Rivnut tool: 
https://www.amazon.com/gp/product/B06XVB3MMG/ref=ox_sc_act_title_1?smid=ABM88BG2T8GM2&psc=1
Trail Tested Gear
Owl offers a highly curated selection based on what we use. Our gear is trusted by the world's top van builders.
We're Here For You
Call us at 866-695-8267 if you have questions. No call centers - our install experts talk with you.
Made in The USA
Owl Vans are engineered for off-road, and hand welded in Arizona.  No one beats our quality. Period.
Canceled Orders
We want all customers to be happy with their purchases but in the event of a canceled order, we cannot recoup the fees charged to us by the credit card companies. When an order is placed, the credit card company takes a percentage of the sale, typically 5%-6% This is money that DOES NOT go to us and we do not get this charge given back to us when we refund an order. Therefore, if someone buys a suspension and then cancels, we pay the credit card company several hundreds of dollars that we cannot get back. Although you may not have noticed, it is industry standard for larger dollar items to have a "restocking fee" of 15% or more. We do our best to charge exactly what we get charged by the credit card company when you cancel an order. In the event of a canceled order, the 5%-6% that the credit card company charges us cannot be refunded. Please make note of this before you order. 
• All canceled orders over $1000 paid with a "Credit Card" will have a 5% credit card processing fee that cannot be returned.
• All canceled orders over $1000 paid with a "Shop Pay Installments" will have a 6% credit card processing fee that cannot be returned.
California Prop 65
WARNING: Some of the products listed contain chemicals known to the State of California to cause cancer and birth defects or other reproductive harm. None of our products are intended to be used in conjunction with clean drinking water unless stated otherwise. For more info please visit www.p65warnings.ca.gov.