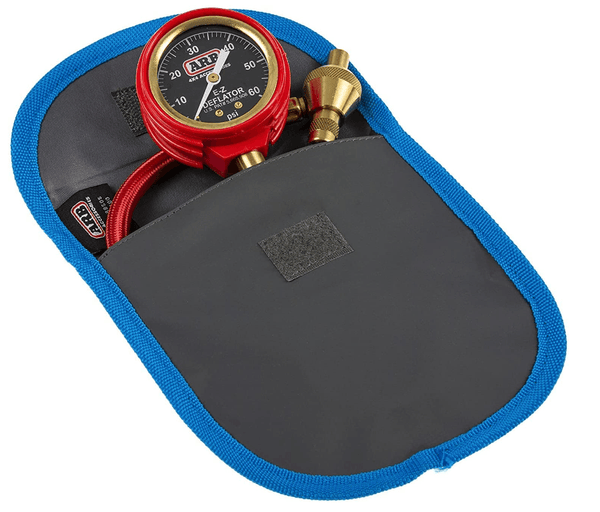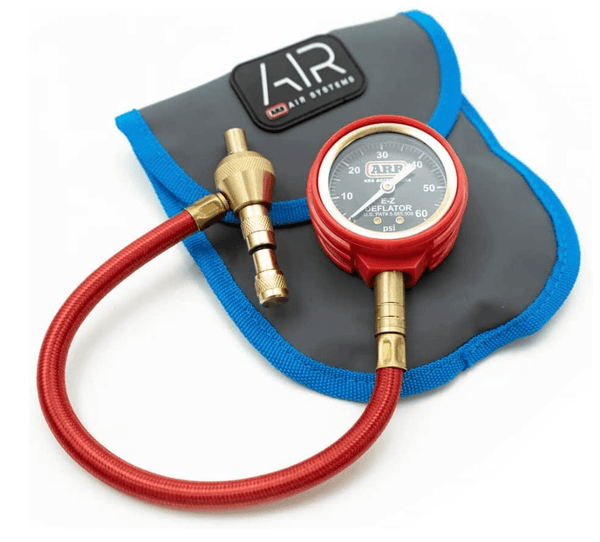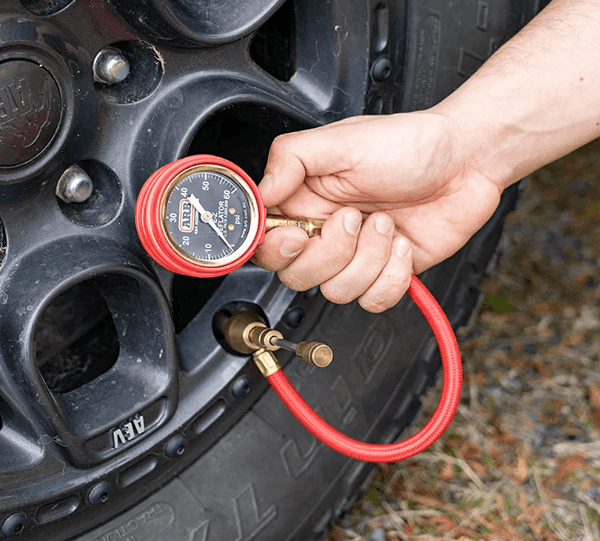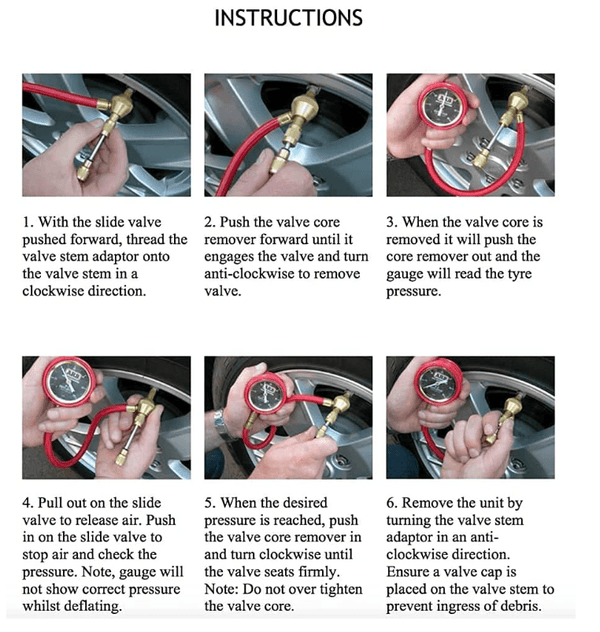 E-Z TIRE DEFLATOR – ANALOG
Airing down one's tires before hitting the trail is critical for traction but take a lot of time if you don't have the right tools. ARB's EZ Deflator is one of our favorite ways to easily remove a valve core and deflate the tire much faster than normal. This is especially important with the high tire pressures of the Sprinter or Transit.
We also chose to carry the Analog version which we prefer over the digital version. Since these items often sit for extended persons of time between trips we try to avoid batteries whenever we can. 
The unique, design of the E-Z Deflator allows for removal of the valve core for rapid tire deflation, while also providing accurate pressure reading via the simple movement of a sliding valve. Provided in a protective canvas pouch, the quality bronze Bourdon Tube gauge design ensures accuracy is not affected by fluctuations in temperature, humidity or altitude.

Corrosion-resistant brass/stainless deflator tool
Fully geared, solid brass precision movement
Protective rubber gauge guard
Easy to read dial with one PSI increments
Trail Tested Gear
Owl offers a highly curated selection based on what we use. Our gear is trusted by the world's top van builders.
We're Here For You
Call us at 866-695-8267 if you have questions. No call centers - our install experts talk with you.
Made in The USA
Owl Vans are engineered for off-road, and hand welded in Arizona.  No one beats our quality. Period.
Canceled Orders
We want all customers to be happy with their purchases but in the event of a canceled order, we cannot recoup the fees charged to us by the credit card companies. When an order is placed, the credit card company takes a percentage of the sale, typically 5%-6% This is money that DOES NOT go to us and we do not get this charge given back to us when we refund an order. Therefore, if someone buys a suspension and then cancels, we pay the credit card company several hundreds of dollars that we cannot get back. Although you may not have noticed, it is industry standard for larger dollar items to have a "restocking fee" of 15% or more. We do our best to charge exactly what we get charged by the credit card company when you cancel an order. In the event of a canceled order, the 5%-6% that the credit card company charges us cannot be refunded. Please make note of this before you order. 
• All canceled orders over $1000 paid with a "Credit Card" will have a 5% credit card processing fee that cannot be returned.
• All canceled orders over $1000 paid with a "Shop Pay Installments" will have a 6% credit card processing fee that cannot be returned.
California Prop 65
WARNING: Some of the products listed contain chemicals known to the State of California to cause cancer and birth defects or other reproductive harm. None of our products are intended to be used in conjunction with clean drinking water unless stated otherwise. For more info please visit www.p65warnings.ca.gov.