Rally Adjustable Strut [Van Compass]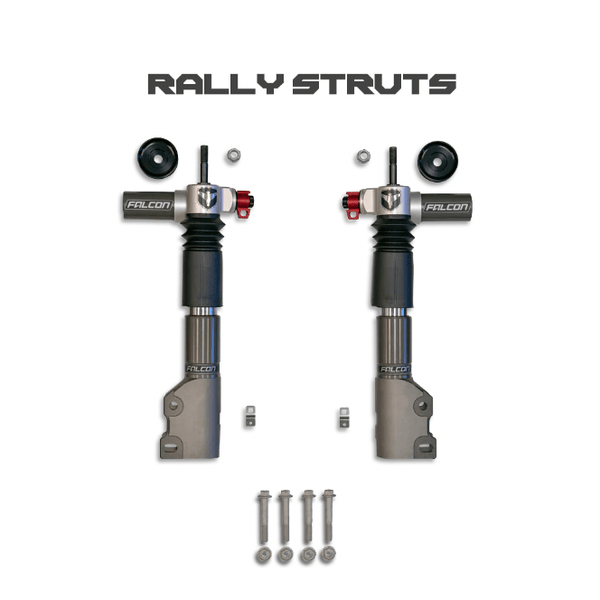 NOTICE, THE FIRST SHIPMENT IS NOW ENTIRELY SOLD OUT. ETA FOR THE SECOND SHIPMENT IS EARLY 2024. 
Anyone who has installed suspension on their van knows the world of difference it makes. Well, be prepared to be blown away again. Never one's to rest on their current gear, Van Compass has been back in the lab the past for years developing the all-new Rally Strut for Sprinters. This Rally Strut is one of the most impressive upgrades we have ever tested...and that is saying a lot. The Strut is intended to replace the factory strut on Sprinters that already have a Van Compass suspension upgrade.
Once installed the transformation is incredible. The entire van is more planted on pavement and unbelievably fun off pavement. The best way to describe it is planted. It makes the van much less harsh over small bumps as well as soaking up those big hits. In our test runs, we had the van with all four wheels off the ground like a rally car and it landed like a cloud, not kidding. 
VC's all-new, inverted damper strut is designed exactly to their fitment and tuning specifications and produced from aerospace-grade materials. Inverted dampers flip the idea of the conventional strut upside down, and use the damper body as the upper strut shaft, while the load-bearing unit is contained in a massive lower housing that connects to the steering knuckle. This is the same application of technologies you will find on Dakar and World Rally Championship cars, which see some of the harshest driving conditions imaginable.
Details: 
Fits: 2015-present Sprinter Vans 4x4 & AWD 
Suggested for Vans with Van Compass suspension (3, 4.3, 4.5, 6.3, 6.5). These can be used on a stock van but for best performance use with Van Compass suspension
Pair of inverted front struts
Replaces factory strut

Fast Adjust Struts

Massive fluid reservoir (improves cooling and allows the suspension to continue to function properly in high-workload environments) 

Not compatible with RIP kit or other "coil-over" front suspensions

Alignment required after installation
Major Benefits:
Significantly increased load-bearing surface area for long service life




Damper shaft and seal surfaces are protected inside lower housing

Much larger damping piston vs OEM

Greater clamping force for alignment specs
*Note - Van Compass changed their auxiliary bracket in Oct of 2022. If you have a VC bracket installed prior to that date, you will need to modify or swap out that old bracket to fit the Rally Strut.  
Lead Time: 4-6 weeks (Owl Vans is getting the first 30 sets in the World, but they will sell out quickly and we don't know what the lead time will be after those) 
Trail Tested Gear
Owl offers a highly curated selection based on what we use. Our gear is trusted by the world's top van builders.
We're Here For You
Call us at 866-695-8267 if you have questions. No call centers - our install experts talk with you.
Made in The USA
Owl Vans are engineered for off-road, and hand welded in Arizona.  No one beats our quality. Period.
Canceled Orders
We want all customers to be happy with their purchases but in the event of a canceled order, we cannot recoup the fees charged to us by the credit card companies. When an order is placed, the credit card company takes a percentage of the sale, typically 5%-6% This is money that DOES NOT go to us and we do not get this charge given back to us when we refund an order. Therefore, if someone buys a suspension and then cancels, we pay the credit card company several hundreds of dollars that we cannot get back. Although you may not have noticed, it is industry standard for larger dollar items to have a "restocking fee" of 15% or more. We do our best to charge exactly what we get charged by the credit card company when you cancel an order. In the event of a canceled order, the 5%-6% that the credit card company charges us cannot be refunded. Please make note of this before you order. 
• All canceled orders over $1000 paid with a "Credit Card" will have a 5% credit card processing fee that cannot be returned.
• All canceled orders over $1000 paid with a "Shop Pay Installments" will have a 6% credit card processing fee that cannot be returned.
California Prop 65
WARNING: Some of the products listed contain chemicals known to the State of California to cause cancer and birth defects or other reproductive harm. None of our products are intended to be used in conjunction with clean drinking water unless stated otherwise. For more info please visit www.p65warnings.ca.gov.