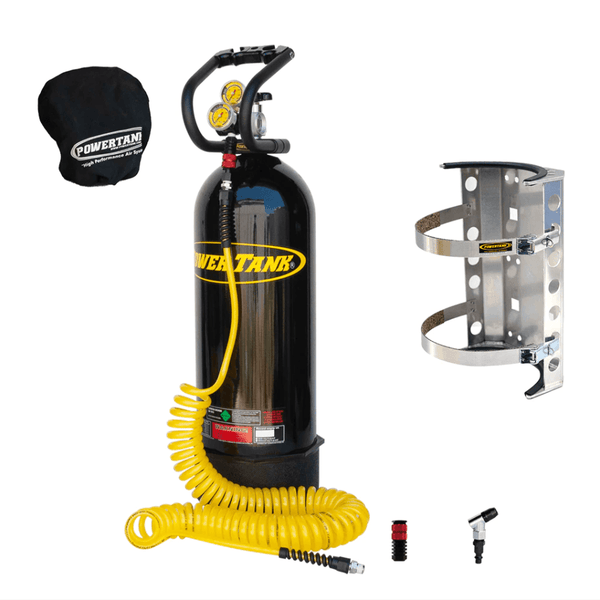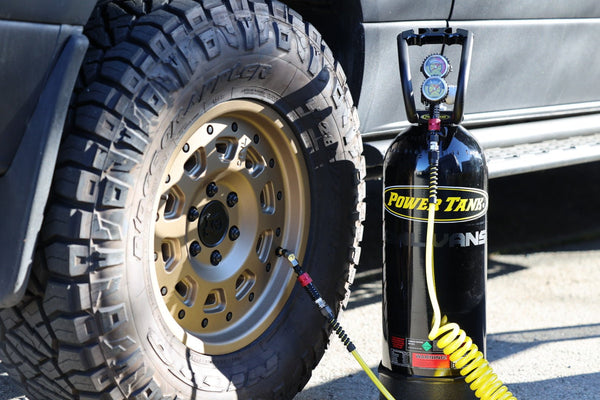 Running low tire pressure is critical for good off-road traction. The problem come at the end of the trail when you have to fill your massive tires back up. Filling a set of van tires, or multiple sets of vehicle tires, can be a very time-consuming process. Worst of all, it is usually at the end of an epic journey when you're trying to get home. Ait compressors are compressing the air as you fill the tires, this is slow and can lead to very high compressor temperatures that can lead to shutdown or shorter air compressor life. 
For a similar cost as an air compressor, the Power Tank allows you to quickly fill up tires to the correct pressure right from a portable bottle. The speed and ease of this fantastic gear will make you never want to overland without one. Moving it from vehicle to vehicle, running air tools, only bringing it "only if needed" are just some of the advantages of a Power Tank. The fit, finish, and quality of the product is unmatched.  
We hand-selected the 20lb power tank so you can fill your van tires with the proper recommended pressures (almost 80spi rear). 
Details:  Power Tank is built with high-pressure van tires in mind. The fastest and most powerful portable air solution. With the power of CO2 you can air up faster, reseat bigger tires (tested up to 46 in.) safely, and run air tools at full power. To see what Power Tank performance looks like for your tire size, check out the air up chart below. Based on tire size and amount of air you are adding, it will tell you how many tires you can fill on one tank and how quickly you can do it. As an example, you can air up from 20 psi to 60 psi on a 35 in. tire in 38 sec. and you can air up 32 tires before needing to refill your 20 lb. Power Tank! The same size tank can also remove 720 lug nuts using a 1/2 in. impact wrench before empty. When it's empty, take your tank to a local fire extinguisher service shop, welding supply store, or beverage carbonic shops, and have it refilled for about $20-$35. 
The secret to this performance is Power Tank's Super Flow Regulators, adjustable regulator designed to maximize output pressure and flow rate simultaneously. Power Tanks boast a 45 cfm flow rate compared to the 5-6 cfm found in high-end 12v compressors. All Power Tank regulators are guaranteed to never freeze clog and are backed with a limited lifetime warranty. This is the only portable air system that will outlive the vehicle it's mounted to. 
This incredible system mounts easily in just about any vehicle or trailer. The best part? This self-contained, compact system is portable and easily moved from vehicle to vehicle, walked down the trail to help a broken rig, or transported from the chase truck to the race car all without power cables or long air hoses to run.
This Package A system includes everything you need to run air tools with a Super Flex hose and our Power Flow 3 8-ball auto-lock hose coupler, upgradable to our advanced universal safety Super Coupler. Air up tires through a push-on air chuck. It also includes a Super Bracket that makes mounting to the Sherpa, B2 or almost anything simple.
Includes:

Super Flow Regulator HP250
Power Grip Guard Handle
20lb Armorcoat CO2 Cylinder
Tank Boot

Super Flex Hose 30ft coiled
Power Flow 3 coupler 

20lb Super Bracket
Push-On Air Chuck

* Limited Lifetime Warranty

Note: Power Tanks can be mounted in any orientation as long as the valves are properly shut. If you plan to mount AND use a Power Tank in a horizontal position.
Lead-Time: In Stock (ships in 1 week). This is an estimate and stock levels can change quickly.
Trail Tested Gear
Owl offers a highly curated selection based on what we use. Our gear is trusted by the world's top van builders.
We're Here For You
Call us at 866-695-8267 if you have questions. No call centers - our install experts talk with you.
Made in The USA
Owl Vans are engineered for off-road, and hand welded in Arizona.  No one beats our quality. Period.
Canceled Orders
We want all customers to be happy with their purchases but in the event of a canceled order, we cannot recoup the fees charged to us by the credit card companies. When an order is placed, the credit card company takes a percentage of the sale, typically 5%-6% This is money that DOES NOT go to us and we do not get this charge given back to us when we refund an order. Therefore, if someone buys a suspension and then cancels, we pay the credit card company several hundreds of dollars that we cannot get back. Although you may not have noticed, it is industry standard for larger dollar items to have a "restocking fee" of 15% or more. We do our best to charge exactly what we get charged by the credit card company when you cancel an order. In the event of a canceled order, the 5%-6% that the credit card company charges us cannot be refunded. Please make note of this before you order. 
• All canceled orders over $1000 paid with a "Credit Card" will have a 5% credit card processing fee that cannot be returned.
• All canceled orders over $1000 paid with a "Shop Pay Installments" will have a 6% credit card processing fee that cannot be returned.
California Prop 65
WARNING: Some of the products listed contain chemicals known to the State of California to cause cancer and birth defects or other reproductive harm. None of our products are intended to be used in conjunction with clean drinking water unless stated otherwise. For more info please visit www.p65warnings.ca.gov.