Pismo Bumper [Ford Transit]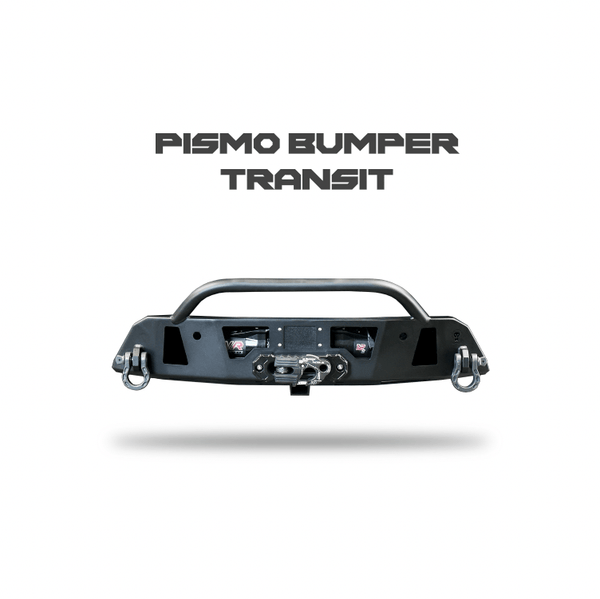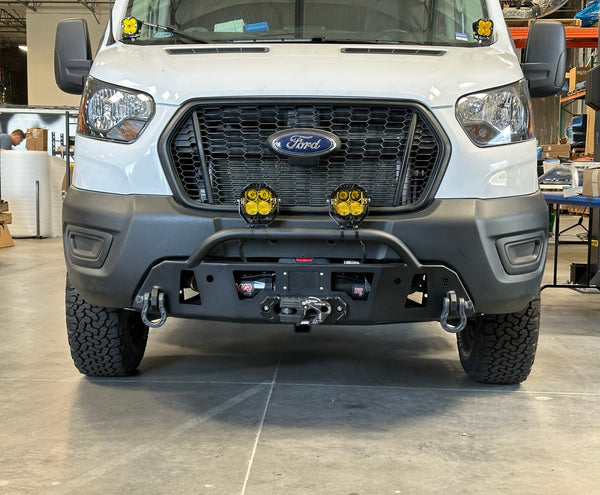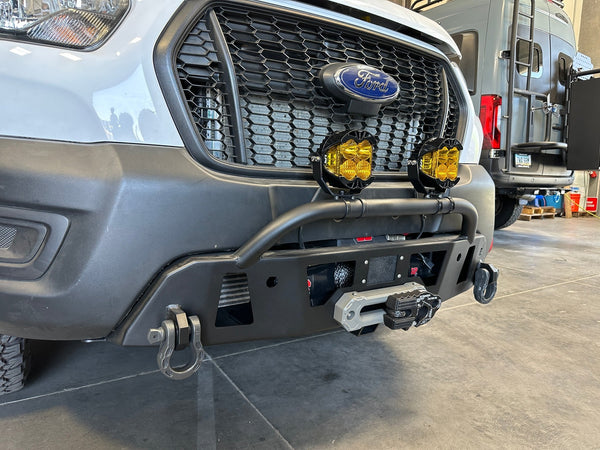 Fresh off the wildly successful Pismo bumper for Sprinter, we scaled this signature look in all the right places to make it flow seamlessly with the front of the new Transit. The end result is an Adventure Van look with a OEM fit. 
Manufactured of rugged steel, this bumper allows the mounting of a 12,000 lbs winch and adds dual recovery points and a hitch mount. 
As the world leader in the adventure van industry, you can rest assured the quality and longevity of the new Pismo for Transit are up to Owl's lofty standards!
Sensors:
The Pismo relocates both the radar sensor and the parking sensors and both should function like factory. Importantly, the radar sensor is mounted within, not above, the bumper as it is on other bumpers. The lower mounting keeps the sensor much closer to the factory height to ensure proper function.
Recovery: 
For those wanting to take their van off the beaten path, it is critical you have solid recovery points and a winch. As they say, prepare to self-rescue. Whether it is pulling yourself out of a sticky situation, or helping a stranded vehicle, once you have a winch, you won't know how you managed without one. 
Fits Ford Transit 2020+ *bumper will fit Ekko +350/350HD

Ultra-Rugged Steel Design

Round tube bull bar 1.7"
Includes Additional Front Hitch 2"

Bumper weight 105lbs
Dual Tow Shackle Mounts (shackles not included) 1"

Winch-ready (winch sold separately) Warn VR-EVO 12k suggested

Works with all front parking sensors (including adaptive cruise controls)

Front hitch weight rating 300lbs 

Shipping is via freight. Shipping is flatrate $199

*Winch, Shackles, fairleads shown in photos are sold separately
 LEAD TIME: 4-6 Weeks (This is an estimate and stocking levels can change quickly)
**Important - This bumper requires relocating the factory radar sensor. After recalibration, the system should function as intended BUT please understand that any modifications to the safety equipment of the van are done are the buyer's own risk. All liability for the functioning of the system falls on the user and the original equipment manufacturer. Please see the WARRANTY and TERMS for more information before purchasing **
Trail Tested Gear
Owl offers a highly curated selection based on what we use. Our gear is trusted by the world's top van builders.
We're Here For You
Call us at 866-695-8267 if you have questions. No call centers - our install experts talk with you.
Made in The USA
Owl Vans are engineered for off-road, and hand welded in Arizona.  No one beats our quality. Period.
Canceled Orders
We want all customers to be happy with their purchases but in the event of a canceled order, we cannot recoup the fees charged to us by the credit card companies. When an order is placed, the credit card company takes a percentage of the sale, typically 5%-6% This is money that DOES NOT go to us and we do not get this charge given back to us when we refund an order. Therefore, if someone buys a suspension and then cancels, we pay the credit card company several hundreds of dollars that we cannot get back. Although you may not have noticed, it is industry standard for larger dollar items to have a "restocking fee" of 15% or more. We do our best to charge exactly what we get charged by the credit card company when you cancel an order. In the event of a canceled order, the 5%-6% that the credit card company charges us cannot be refunded. Please make note of this before you order. 
• All canceled orders over $1000 paid with a "Credit Card" will have a 5% credit card processing fee that cannot be returned.
• All canceled orders over $1000 paid with a "Shop Pay Installments" will have a 6% credit card processing fee that cannot be returned.
California Prop 65
WARNING: Some of the products listed contain chemicals known to the State of California to cause cancer and birth defects or other reproductive harm. None of our products are intended to be used in conjunction with clean drinking water unless stated otherwise. For more info please visit www.p65warnings.ca.gov.