Oversized Tire Module (35" Tires)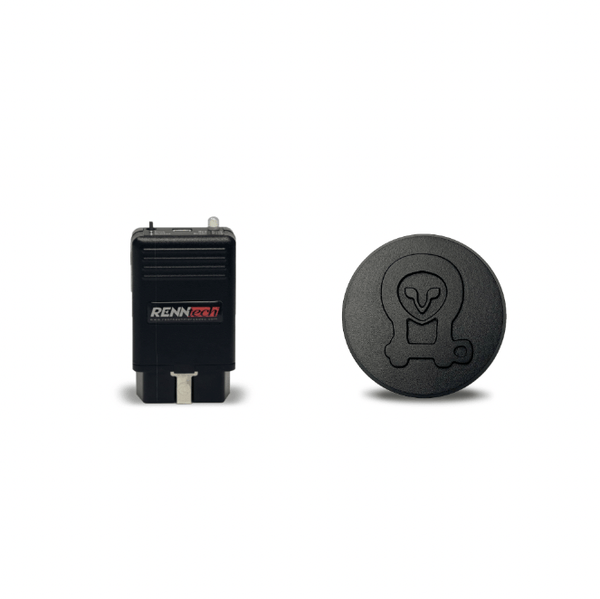 One of the best upgrades for any offroad vehicle is oversized offroad tires. They offer more traction and more ground clearance. The only issue is that until now, the Sprinter only allowed you to install a max tire size of 33" (275/70/17). Now, thanks for the tire ROM from Owl and Renntech, you can install up to a 35" tire without issue. 
Why is the tuner needed? The Mercedes onboard computer (ECU) checks both the wheel speed and the GPS speed the van is traveling.
By installing a tire larger than a 275, your wheels will turn slower for a given speed (lower wheel RPM) which will therefore cause the computer to think there is a problem.  The ECU will then disable Adaptive Cruise Control and Emergency Brake Assist. 
The good news is that Renntech and Owl finally have a fix. By plugging in the Renntech Tire ROM to the OBD2 port on your van it will change the acceptable tire size inside the van's ECU allowing all systems to function as intended. You can then remove the ROM and you're done. 
Details:
Sprinter VS30 vans (2019-present) 
Tire ROM Hand Held Tuner for OBD2 (VIN Locked to a single vehicle)
Max Tire Size 35"
Fixed Adaptive Cruise Control and Emergency Brake Assist
Installing larger tires may require trimming and relocating the mud flaps
Tires Larger than a 33" tire will work on Owl Tire and Ladder Tire Carriers. You may need to trim or upgrade your Mercedes rear door emblem with a smaller diameter Owl Badge ($65)
Does not correct speedometer
VIN must be supplied as well as the tire size you wish to use

before we are able to start the tuning process. Please email VIN to moto@owlvans.com
Lead Time: In Stock (Ships within 1 week) 
_____________________
 * No returns on Renntech Tuners. Due to the nature of installing a tune, any return or refunds would be at the sole discretion of Renntech. Returns on tunes are only accepted in situations where there is a problem that is unable to be resolved.
*Note - If your van is equipped with remote start equipment, you may need to unplug that remote start equipment to properly load the tune. We recommend installing at home and not before a big trip so that if there are any issues with the installation you are not at a remote location.
 BY AGREEING TO INSTALLATION OF INTERNALLY MANUFACTURED OWL PARTS OR THIRD-PARTY PARTS PURCHASED THROUGH OWL, YOU THE CUSTOMER ARE ASSUMING THE RISK THAT OTHER WARRANTIES MAY BE AFFECTED AND INVALIDATED AND THAT THE PERFORMANCE OF THE VEHICLE MAY BE AFFECTED. ALL MODIFICATIONS ARE DONE AT YOUR OWN RISK. 
Trail Tested Gear
Owl offers a highly curated selection based on what we use. Our gear is trusted by the world's top van builders.
We're Here For You
Call us at 866-695-8267 if you have questions. No call centers - our install experts talk with you.
Made in The USA
Owl Vans are engineered for off-road, and hand welded in Arizona.  No one beats our quality. Period.
Canceled Orders
We want all customers to be happy with their purchases but in the event of a canceled order, we cannot recoup the fees charged to us by the credit card companies. When an order is placed, the credit card company takes a percentage of the sale, typically 5%-6% This is money that DOES NOT go to us and we do not get this charge given back to us when we refund an order. Therefore, if someone buys a suspension and then cancels, we pay the credit card company several hundreds of dollars that we cannot get back. Although you may not have noticed, it is industry standard for larger dollar items to have a "restocking fee" of 15% or more. We do our best to charge exactly what we get charged by the credit card company when you cancel an order. In the event of a canceled order, the 5%-6% that the credit card company charges us cannot be refunded. Please make note of this before you order. 
• All canceled orders over $1000 paid with a "Credit Card" will have a 5% credit card processing fee that cannot be returned.
• All canceled orders over $1000 paid with a "Shop Pay Installments" will have a 6% credit card processing fee that cannot be returned.
California Prop 65
WARNING: Some of the products listed contain chemicals known to the State of California to cause cancer and birth defects or other reproductive harm. None of our products are intended to be used in conjunction with clean drinking water unless stated otherwise. For more info please visit www.p65warnings.ca.gov.