Opti-Rate Full Spring Pack [Van Compass]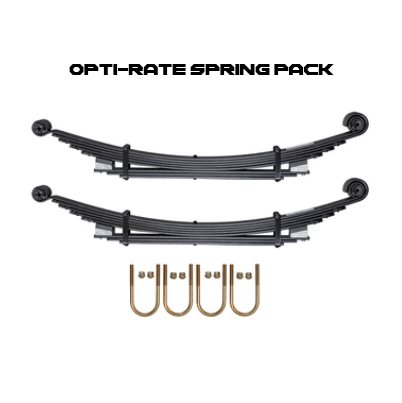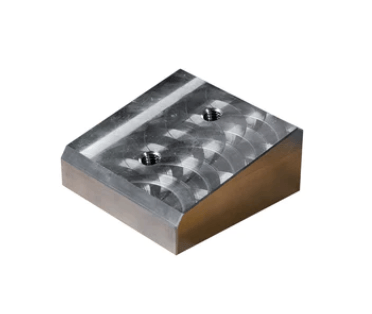 Opti-Rate Full Spring Pack:
Van Compass's Opti-Rate spring pack represents the culmination of over a decade spent tuning leaf springs for various ride heights, payloads, applications and uses. Built-out vans often suffer from harsh bottom-out due to the constant weight being carried and will drive very poorly overall. Previously, leaf springs had to be ordered to a specific weight range and lift height, which meant either guessing or waiting until completion to order parts. The Opti-rate spring gives new flexibility in tuning both your spring rate and ride height, all in one package.

With an industry-first tunable preload system, they have developed a spring that truly is a 'one size fits all' solution, perfect for van builders, kit installers, and DIY'ers building their vans step by step on their own. The Opti-rate spring is made up of 3 distinct parts: the main springs in the primary stage, a 3-leaf secondary stage, and the Adjustable Preload Spacers (APS). The Adjustable Preload Spacers are machined blocks with stackable delrin glide pads that preload the secondary stage into the main stage. The springs are designed in a way that there is a gap between the 2 stages, perfect for adding our billet machined APS. When the main spring is weighted, the APS are able to engage the primary and secondary stages together. Changing the preload spacers requires little more than a floor jack, socket wrench, and a mallet; the springs can stay in the vehicle.
For light vans, or customers wanting the softest ride, no APS is needed and the spring works in its softest configuration. Middle weight vans, or customers wanting a firmer rear spring rate and increased ride height can add the APS with 1 delrin spacer pad. Heavy vans, or customers wanting the maximum spring rate and ride height can install the APS with 2 Delrin spacer pads.
This spring is designed as a tunable solution, and as a way to correct spring rate. They have designed this spring to return the lost ride height without adding excessive lift. These springs are fully compatible with lift blocks and existing rear geometry correction components to allow for our 2" lift kits to work perfectly for those that want increased clearance and a more aggressive stance.
Lead-Time: In Stock (Ships in 1-2 weeks). This is an estimate, and stock levels can change quickly.

Installation at an Owl Facility
$700 - Opti-Rate *some vans with "blocked" U-Bolts may be additional. Some builders block access to the u-bolts with plumbing and the bolts must be cut our and replaced. 
Lead-Time: Currently in stock (ships in about a week). Please keep in mind stocking levels can change quickly
Flat Rate Shipping: $300
Trail Tested Gear
Owl offers a highly curated selection based on what we use. Our gear is trusted by the world's top van builders.
We're Here For You
Call us at 866-695-8267 if you have questions. No call centers - our install experts talk with you.
Made in The USA
Owl Vans are engineered for off-road, and hand welded in Arizona.  No one beats our quality. Period.
Canceled Orders
We want all customers to be happy with their purchases but in the event of a canceled order, we cannot recoup the fees charged to us by the credit card companies. When an order is placed, the credit card company takes a percentage of the sale, typically 5%-6% This is money that DOES NOT go to us and we do not get this charge given back to us when we refund an order. Therefore, if someone buys a suspension and then cancels, we pay the credit card company several hundreds of dollars that we cannot get back. Although you may not have noticed, it is industry standard for larger dollar items to have a "restocking fee" of 15% or more. We do our best to charge exactly what we get charged by the credit card company when you cancel an order. In the event of a canceled order, the 5%-6% that the credit card company charges us cannot be refunded. Please make note of this before you order. 
• All canceled orders over $1000 paid with a "Credit Card" will have a 5% credit card processing fee that cannot be returned.
• All canceled orders over $1000 paid with a "Shop Pay Installments" will have a 6% credit card processing fee that cannot be returned.
California Prop 65
WARNING: Some of the products listed contain chemicals known to the State of California to cause cancer and birth defects or other reproductive harm. None of our products are intended to be used in conjunction with clean drinking water unless stated otherwise. For more info please visit www.p65warnings.ca.gov.