Headliner Shelf - 2019+ (Van Wife)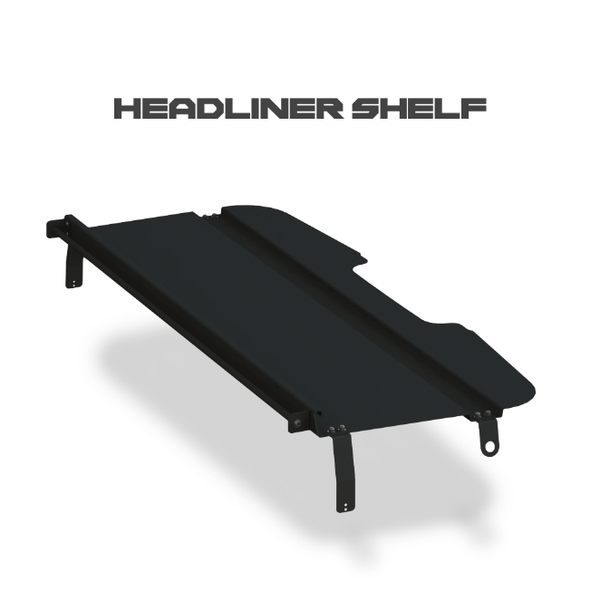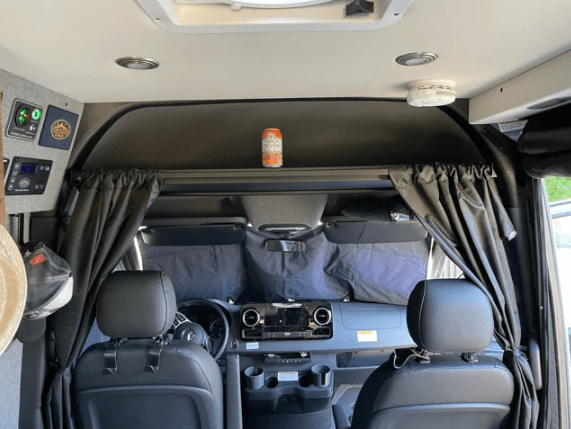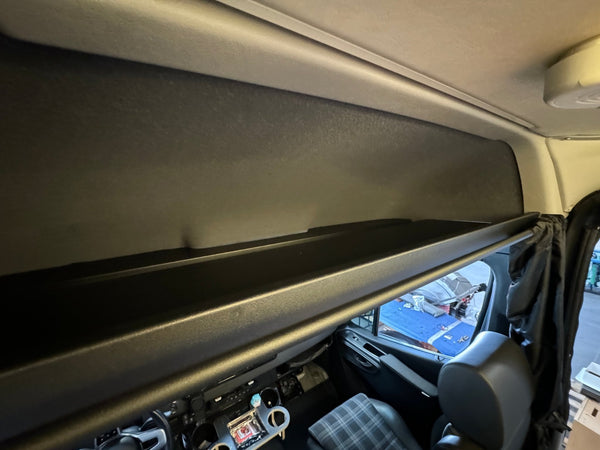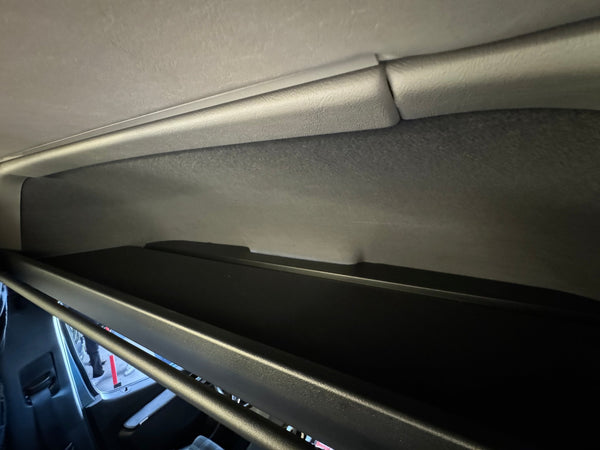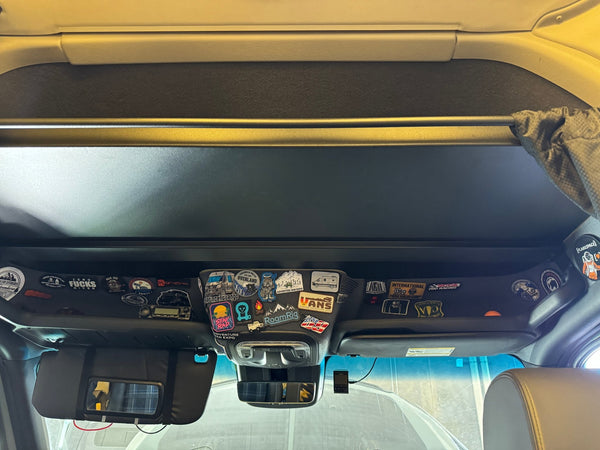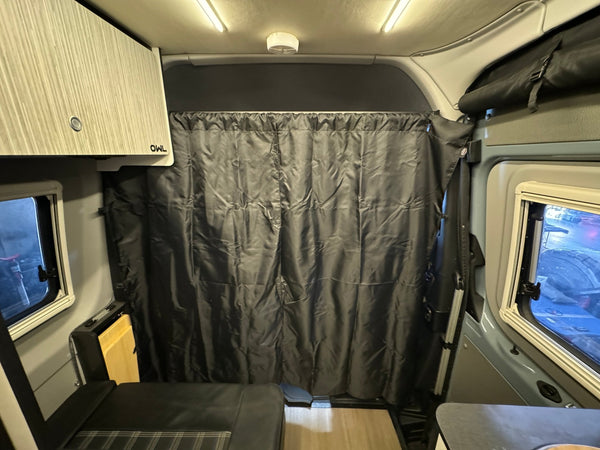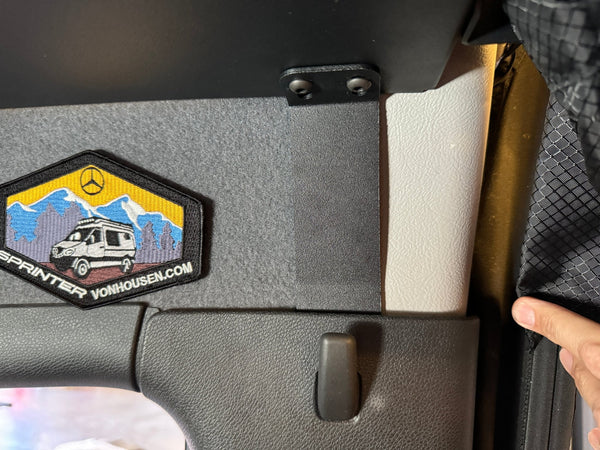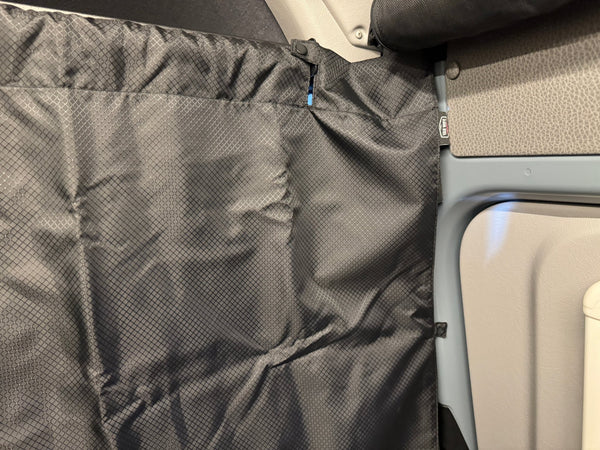 The 2019 Sprinter Headliner Shelf is a black, powder-coated shelf that sits just above the visor storage in the cab. This creates a huge amount of storage in what is now a dead area of the van.
Our updated design features a sleek, round curtain rod with improved attachment points, all using an allen wrench. The curtain rod brackets are attached with nuts and bolts, making it easier to remove completely. The curtain rod ends have an upgraded threaded bolt system to easily install our Stealth Blackout Curtain.
Fits: VS30 Sprinter 2500 and 3500 4x4, AWD, 2WD and Storyteller Overland.
Required tools:
5/32 allen wrench
T-20 Torx bit (for removing factory bolt)
T-27 Torx bit (for removing factory bolt)
Blackout Curtain (Optional)
Our Stealth Blackout Curtain was born from trying to go stealth mode (staying in a place not designated for camping) in our van. We used to put window coverings in the front windows, but this seemed to signal to everyone around us that we were sleeping in the van and resulted in getting asked to leave. The Stealth Blackout Curtain allows us to simply close a curtain each night and makes our van look like a parked vehicle, not a camper. The curtain is tailored from heavy-duty diamond rip-stop fabric to the curves of the van and includes carefully placed magnetic and tie closures to block light from leaving the van, which would ruin stealth mode. This curtain is a must-have for anyone planning on urban camping in their van! The curtain simply ties back to stay out of the way when not in use. The curtain also helps tremendously with heat blockage from the front of the van while trying to stay cool in the back.
The Stealth Blackout Curtain is designed to accommodate diesel heater vents under the front seat, so intentionally does not reach the floor. Also, magnets on the sides of the curtain will need metal to stick to. If you have plastic or fabric over your metal, plan to tuck the curtain under something or add metal clips to magnetize it on one or both sides.
Trail Tested Gear
Owl offers a highly curated selection based on what we use. Our gear is trusted by the world's top van builders.
We're Here For You
Call us at 866-695-8267 if you have questions. No call centers - our install experts talk with you.
Made in The USA
Owl Vans are engineered for off-road, and hand welded in Arizona.  No one beats our quality. Period.
Canceled Orders
We want all customers to be happy with their purchases but in the event of a canceled order, we cannot recoup the fees charged to us by the credit card companies. When an order is placed, the credit card company takes a percentage of the sale, typically 5%-6% This is money that DOES NOT go to us and we do not get this charge given back to us when we refund an order. Therefore, if someone buys a suspension and then cancels, we pay the credit card company several hundreds of dollars that we cannot get back. Although you may not have noticed, it is industry standard for larger dollar items to have a "restocking fee" of 15% or more. We do our best to charge exactly what we get charged by the credit card company when you cancel an order. In the event of a canceled order, the 5%-6% that the credit card company charges us cannot be refunded. Please make note of this before you order. 
• All canceled orders over $1000 paid with a "Credit Card" will have a 5% credit card processing fee that cannot be returned.
• All canceled orders over $1000 paid with a "Shop Pay Installments" will have a 6% credit card processing fee that cannot be returned.
California Prop 65
WARNING: Some of the products listed contain chemicals known to the State of California to cause cancer and birth defects or other reproductive harm. None of our products are intended to be used in conjunction with clean drinking water unless stated otherwise. For more info please visit www.p65warnings.ca.gov.