Baja Shock Brace Bracket [Van Compass]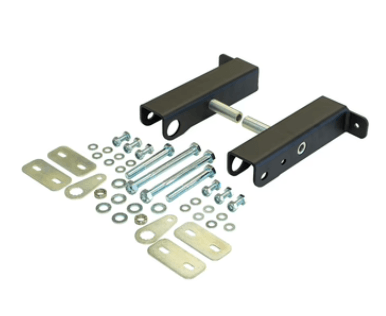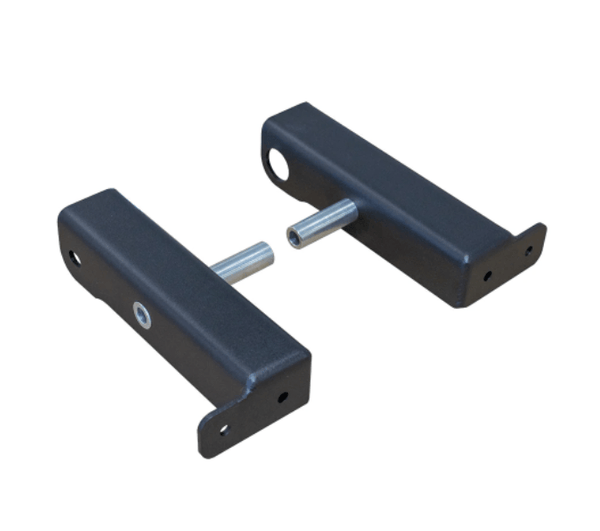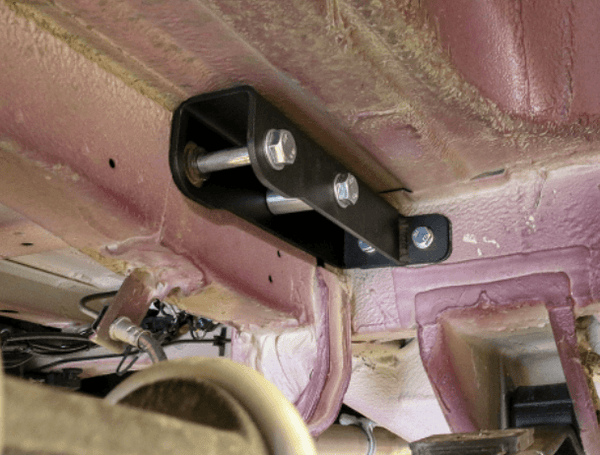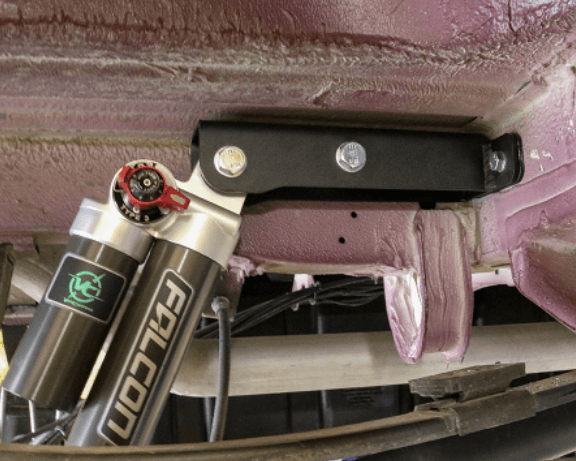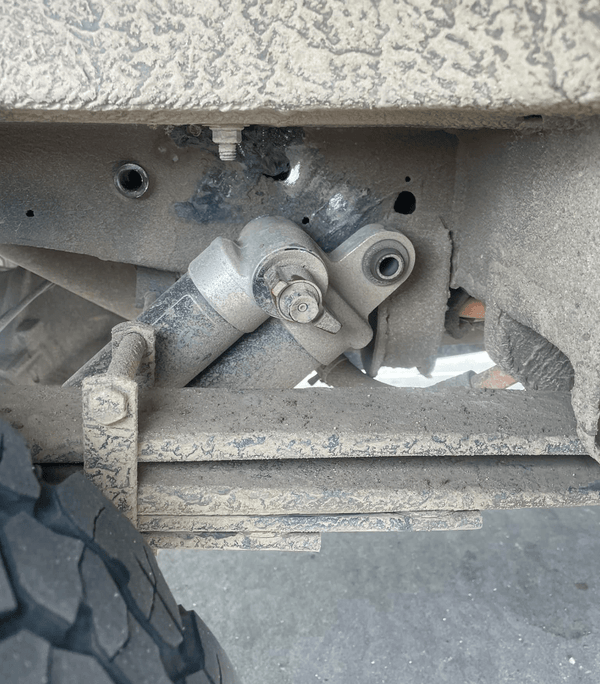 If you're upgrading your suspension, this is a must. The Mercedes Sprinter was not designed for serious off-roading. While it performs quite well, there are some failure points that need to be addressed. As many owners are discovering, a heavily loaded van driven hard off-road can stress the factory components beyond their original design parameters.
Below is a broken shock bolt:
The Baja Bracket Rear Shock mount kit is a solution Van Compass has developed to eliminate one of the major issues when off-roading a Sprinter...a single shear upper shock bolt. A single shear bolt has its benefits mostly in cost and ease of packaging, and for a delivery van on the street with frequent fleet service checks, this isn't a problem. Without reinforcement on both sides of the upper shock bushing, this puts a large amount of cyclical stress on the factory shock bolt. Over time, the bolts can stretch or come loose after long miles of washboards, and the bolt eventually yields at the worst possible location: right where it enters the threaded bung on the chassis. For our customers, exploring remote backcountry terrain the shock is a critical part of safe travel ensuring that the weight of the vehicle is kept safely under control in all conditions.
Our Baja Bracket is a sturdy, precision-engineered solution to capture both sides of the upper shock bushing and eliminate the dangerous fulcrum effect that causes a bolt to eventually shear. The part is laser cut and CNC bent from 3/16" formed steel, fixture welded to ensure accuracy, then powder coated for good looks and longevity. A complete hardware kit and slotted holes ensure perfect fit and alignment on all vans, while a machined tubular brace dissipates the load of the shock safely throughout the frame rail. At Van Compass, we have the solution that won't leave you stranded. Van Further.
Reinforces weak factory upper shock bolt.
Includes all necessary hardware.
Works with stock and aftermarket shocks.
Works with stock and lifted vans.
Simple installation with basic hand tools.
Fitment:
Sprinter 2500 vans (NCVC & VS30) 2007-Present
Will not work on NCV3 vans with headlight leveling option (this is not a common option). Please check before ordering. 
Please confirm there are no plumbing or wiring obstructions before ordering. Depending on the builder, some vans may have accessories routed that will interfere with fitment of these brackets. Some Revels and Storytellers have plumbing and wiring routed through part of the spring hanger on the passenger side, but these brackets will still fit that application.
These are available for installation with a suspension or available for retrofit on vans with suspension already installed. 
Trail Tested Gear
Owl offers a highly curated selection based on what we use. Our gear is trusted by the world's top van builders.
We're Here For You
Call us at 866-695-8267 if you have questions. No call centers - our install experts talk with you.
Made in The USA
Owl Vans are engineered for off-road, and hand welded in Arizona.  No one beats our quality. Period.
Canceled Orders
We want all customers to be happy with their purchases but in the event of a canceled order, we cannot recoup the fees charged to us by the credit card companies. When an order is placed, the credit card company takes a percentage of the sale, typically 5%-6% This is money that DOES NOT go to us and we do not get this charge given back to us when we refund an order. Therefore, if someone buys a suspension and then cancels, we pay the credit card company several hundreds of dollars that we cannot get back. Although you may not have noticed, it is industry standard for larger dollar items to have a "restocking fee" of 15% or more. We do our best to charge exactly what we get charged by the credit card company when you cancel an order. In the event of a canceled order, the 5%-6% that the credit card company charges us cannot be refunded. Please make note of this before you order. 
• All canceled orders over $1000 paid with a "Credit Card" will have a 5% credit card processing fee that cannot be returned.
• All canceled orders over $1000 paid with a "Shop Pay Installments" will have a 6% credit card processing fee that cannot be returned.
California Prop 65
WARNING: Some of the products listed contain chemicals known to the State of California to cause cancer and birth defects or other reproductive harm. None of our products are intended to be used in conjunction with clean drinking water unless stated otherwise. For more info please visit www.p65warnings.ca.gov.