Explorer Sprinter Side Ladder [OWL]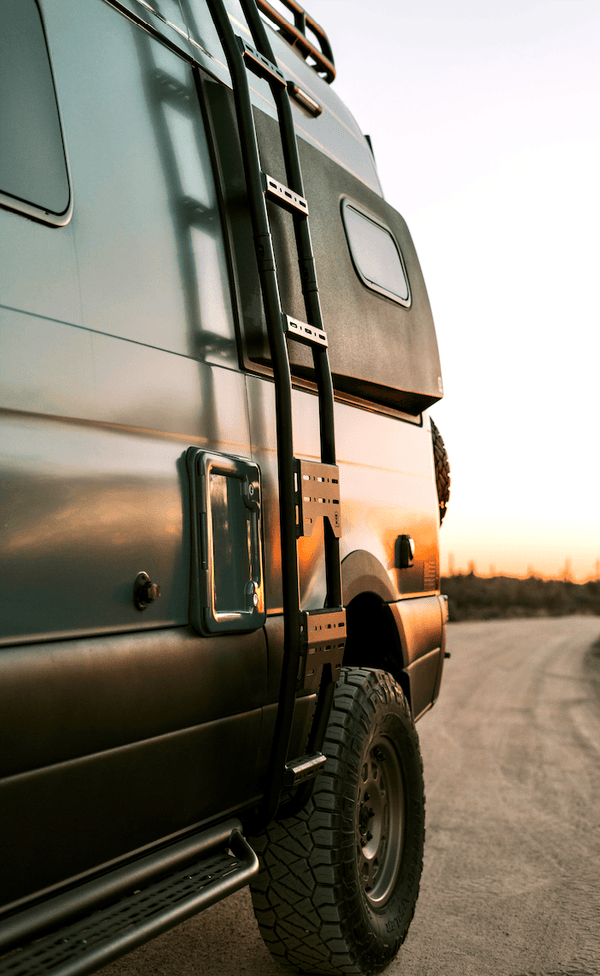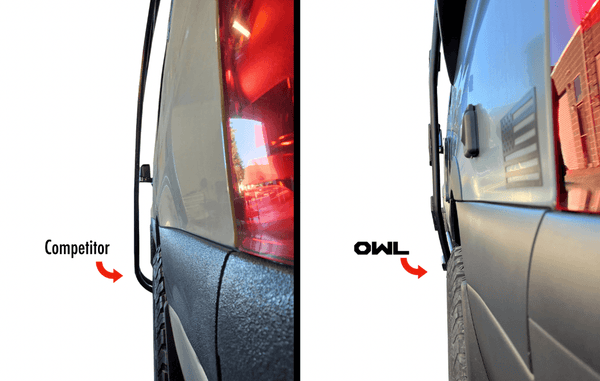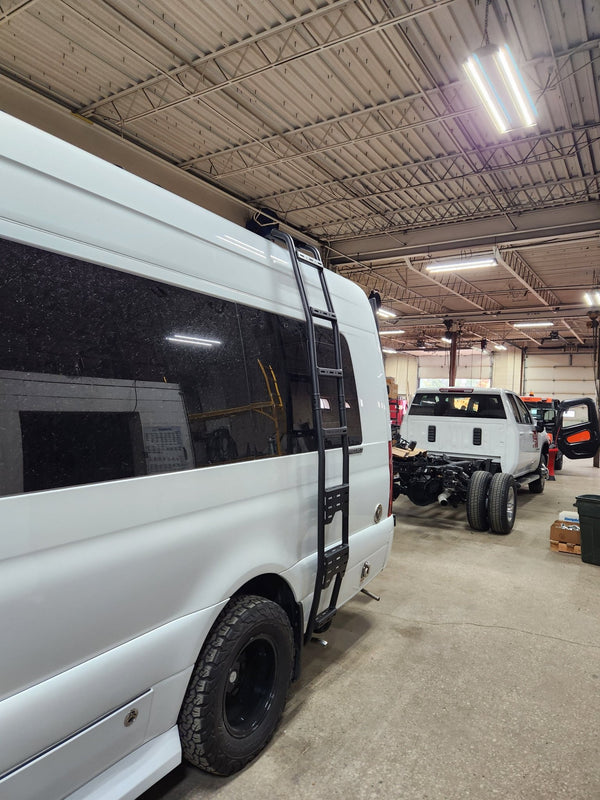 These are IN STOCK. Buy today, ships in less than a week.

Sprinter Side ladders are one of the most identifiable items that make a van look like an Adventure Van. While popular, side ladders also have some major drawbacks when it comes to offroading or overlanding. That's why Owl waited until we had a completely new design that addressed those past problems and brought the side ladder into a new form
Highlights:
Fits: 2007-Present vans (NCV3, VS30, Revel, Storyteller, etc)

Approved part by Mercedes-Benz

RVIA certified rated to 300lbs (tested up to 1000lbs)

Thor Tranquility - Requires adding a roof rail. See video at the bottom of the page

Lightweight aluminum construction (entire ladder just 18lbs)

Powder-coated black


High clearance design

Machined aluminum 50/50 mounts

Steel Roof Rack Mount included

All Stainless steel or Aluminum hardware

Owl rocker-saver breakaway aluminum bolts

Modular mountable treads/steps

Can be mounted in front or behind rear wheel on 170" 

Low-cost shipping compared to full-length ladders

Does NOT fit low-roof Sprinters
Please confirm compatibility with roof racks or side steps before ordering. The ladder takes up 13" from the opening of the wheel well to the front of the ladder

Installation Additional ($300 at Owl Off-Road Locations)
Ladder Load Testing:
Owl Side-Ladder Innovation:
Problem - Until Owl, the biggest problem with side ladders was the potential of heavy damage to your van. When current side ladders get hung up on a stump or rock, they not only damage the ladder, but they typically do heavy amounts of damage to the bottom side and rockers of the van as well. Repairs can run into the thousands and involve cutting and resending large sections of your van…not a fun way to end a trail run… But we have a fix!
The solution from Owl is multi-fold:
Shape - When designing this new side ladder, we started by laser scanning the side of the Sprinter so we could contour our tubing to perfectly follow the side of the van. This allowed our tubing to be much tighter to the van than competitive ladders. The result is a ladder that keeps your van as narrow as possible and drastically lowers the risk of catching the ladder on an obstacle.
Large tread plate -  We enlarged the top tread of the step to stick out the front of the ladder allowing a solid foot placement even with the ladder tight to the van. 
Breakaway Hardware - Of course, people want a ladder to be rock solid, and with a weight limit of 400lbs the Owl Side Ladder is incredibly rugged. That said, our engineering teams had a unique and brilliant solution when it came to attaching the ladder to the bottom of the van.  The top of the ladder is bolted to the roof rack rails using a steel plate with stainless steel bolts  (700lbs shear strength per bolt). Conversely, the bolts we chose to hold the bottom of the ladder are purposely low in their shear strength rating. Why would we purposely add weak hardware to the bottom of the ladder? To protect your more expensive van of course! 
Here are two images of rocker damage from the side ladders on the market today:
The Owl Solution:
What the team did is purposely engineer a weak point in the ladder when a force is applied laterally. When you climb the ladder the force is vertical in the downward direction. Should a heavy lateral load be applied to the ladder, such as getting hung up on a rock, the bottom aluminum bolts will sheer off. This allows the bottom of the ladder to break free from the van and limit any additional damage to the van. Mountain bikes have used this type of system for years on derailleur hangers. Derailleurs are the very expensive gear-changing systems that hang off the side of bikes. They are attached with a similar thin tab of aluminum. This way, if the bike is in an accident the small aluminum tab breaks and keeps the derailleur in one piece. Most times, you simply replace the cheap aluminum tab and you're good to go. 
Modularity - Vans are wonderful for adventure because you can take them where you can't take larger RVs. That also means vans are tight on space. That is why we build in modularity to almost every product we sell. This means a side ladder is more than a side ladder. It can become a place for additional fuel or water, maybe surfboards or traction boards? With the ability to easily mount items to the proprietary hole pattern on the ladder, we open up a world of possibilities beyond simply going put to the roof. 
Universal mount-ability - The Owl Side Ladder mounts to the factory roof rails already on the top of your van. It does not mount directly to the roof rack like many competitive offerings. This means the Owl Side Ladder works with the roof rack you already have. No need to build any custom mounts or buy extra parts. We include our very low-profile steel mounting plate that passes under all racks we have tested. 
 Thor Tranquility:
Trail Tested Gear
Owl offers a highly curated selection based on what we use. Our gear is trusted by the world's top van builders.
We're Here For You
Call us at 866-695-8267 if you have questions. No call centers - our install experts talk with you.
Made in The USA
Owl Vans are engineered for off-road, and hand welded in Arizona.  No one beats our quality. Period.
Canceled Orders
We want all customers to be happy with their purchases but in the event of a canceled order, we cannot recoup the fees charged to us by the credit card companies. When an order is placed, the credit card company takes a percentage of the sale, typically 5%-6% This is money that DOES NOT go to us and we do not get this charge given back to us when we refund an order. Therefore, if someone buys a suspension and then cancels, we pay the credit card company several hundreds of dollars that we cannot get back. Although you may not have noticed, it is industry standard for larger dollar items to have a "restocking fee" of 15% or more. We do our best to charge exactly what we get charged by the credit card company when you cancel an order. In the event of a canceled order, the 5%-6% that the credit card company charges us cannot be refunded. Please make note of this before you order. 
• All canceled orders over $1000 paid with a "Credit Card" will have a 5% credit card processing fee that cannot be returned.
• All canceled orders over $1000 paid with a "Shop Pay Installments" will have a 6% credit card processing fee that cannot be returned.
California Prop 65
WARNING: Some of the products listed contain chemicals known to the State of California to cause cancer and birth defects or other reproductive harm. None of our products are intended to be used in conjunction with clean drinking water unless stated otherwise. For more info please visit www.p65warnings.ca.gov.