Sherpa Cargo Carrier - Sprinter VS30 (2019-Present)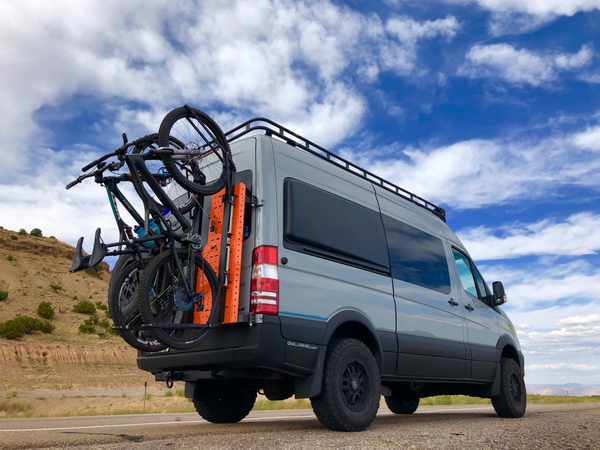 These are IN STOCK. Buy today, ships in less than a week.

The New Sherpa Cargo System for 2019-present Sprinter and Revel (2020+) The most versatile and innovative way to carry all your critical gear. Sherpa is totally configurable allowing you to mount almost anything: Bikes, generators, cargo boxes, Rotopax, fuel cans, skis, and much much more. Better yet, items can be quickly switched, based on trip or season. Sherpa is CNC machined from a solid plate of rugged yet lightweight aluminum. With over 150 mounting holes and 40 slots, means you can always find just the right mount.
The Sherpa is great for mounting bikes vertically for easy loading and unloading. Please keep in mind, the Sherpa is not intended to mount E-Bikes bike vertically. Bikes will have some movement when traveling, this is normal. Always use the verticle kit and safety straps when mounting bikes vertically. We work closely with 1up and both our and their engineers have approved the vertical mounting of their trays. 

The Sherpa is designed to be configurable and changed between trips. Keep in mind that mounting items to the Sherpa can call cause normal wear and tear to the finish.


INSTALLATION $300 AT THE FACILITY
Highlights:


Sprinter Model VS30 (years 2019+ or Revel/Storryteller 2020+)
See images for exact dimensions
Not intended for E-Bikes or bikes over 30lbs
Installs in 30 mins with basic tools (no professional needed). Product requires drilling a single hole in the door. Template included. 
Does not limit departure angle
Does not include box (accessories sold separately)
Driver side does NOT require relocating the license plate
Note: mounting anything to a painted or powder-coated surface can leave small abrasions or marks on the surface of the Sherpa. We use an ultra-rugged dual-layer powder coating but we cannot stop marks from use. Any cosmetic imperfections due to customers mounting and removing items is considered normal wear and tear and is not covered under warranty or replacement. 
Allows verticle mounting of bikes. Requires 1up trays (Accessories page). When mounting bikes vertically always use the vertical kit with safety straps.
Installation: $300 at an Owl Offroad facility. Installing 180˚ adds an additional $100 of labor
Complementary Products:
Trail Tested Gear
Owl offers a highly curated selection based on what we use. Our gear is trusted by the world's top van builders.
We're Here For You
Call us at 866-695-8267 if you have questions. No call centers - our install experts talk with you.
Made in The USA
Owl Vans are engineered for off-road, and hand welded in Arizona.  No one beats our quality. Period.
Canceled Orders
We want all customers to be happy with their purchases but in the event of a canceled order, we cannot recoup the fees charged to us by the credit card companies. When an order is placed, the credit card company takes a percentage of the sale, typically 5%-6% This is money that DOES NOT go to us and we do not get this charge given back to us when we refund an order. Therefore, if someone buys a suspension and then cancels, we pay the credit card company several hundreds of dollars that we cannot get back. Although you may not have noticed, it is industry standard for larger dollar items to have a "restocking fee" of 15% or more. We do our best to charge exactly what we get charged by the credit card company when you cancel an order. In the event of a canceled order, the 5%-6% that the credit card company charges us cannot be refunded. Please make note of this before you order. 
• All canceled orders over $1000 paid with a "Credit Card" will have a 5% credit card processing fee that cannot be returned.
• All canceled orders over $1000 paid with a "Shop Pay Installments" will have a 6% credit card processing fee that cannot be returned.
California Prop 65
WARNING: Some of the products listed contain chemicals known to the State of California to cause cancer and birth defects or other reproductive harm. None of our products are intended to be used in conjunction with clean drinking water unless stated otherwise. For more info please visit www.p65warnings.ca.gov.