Monster Box [XL Cargo Box]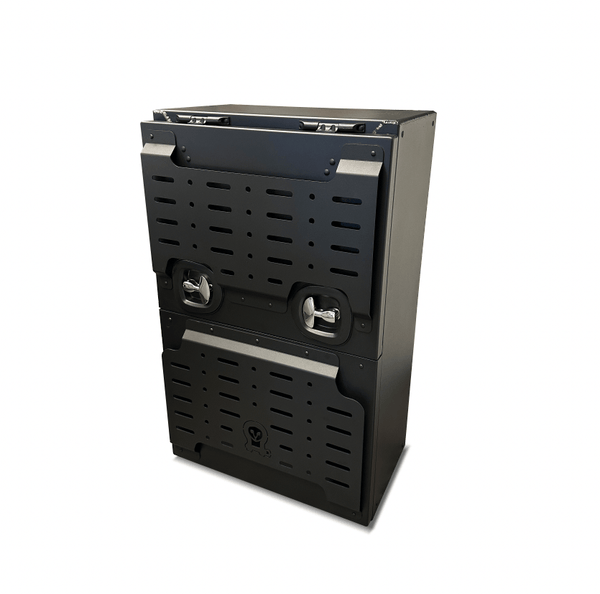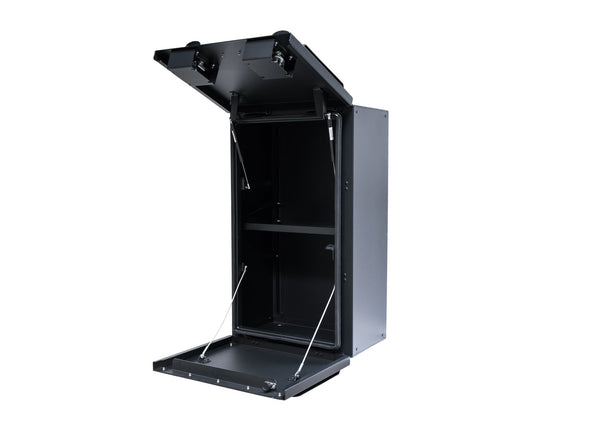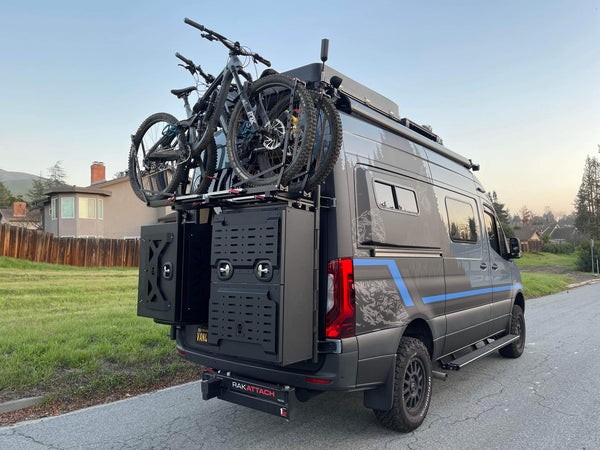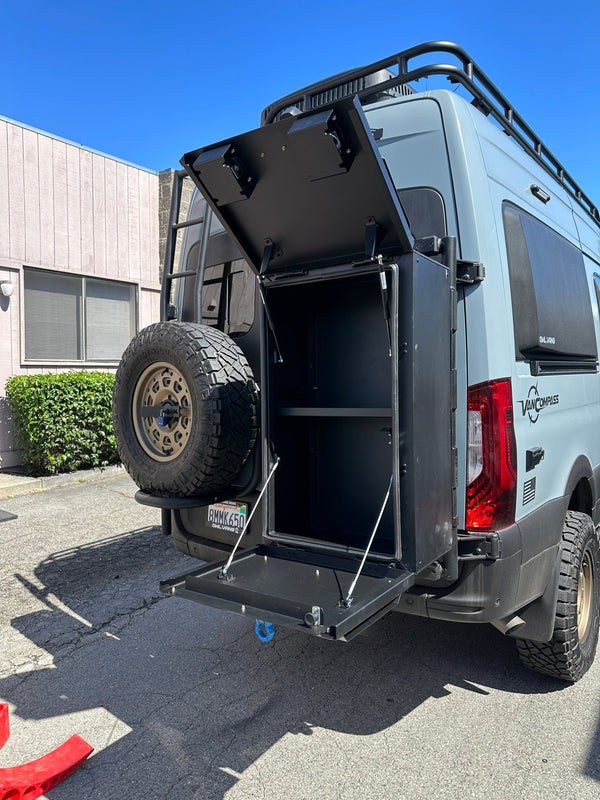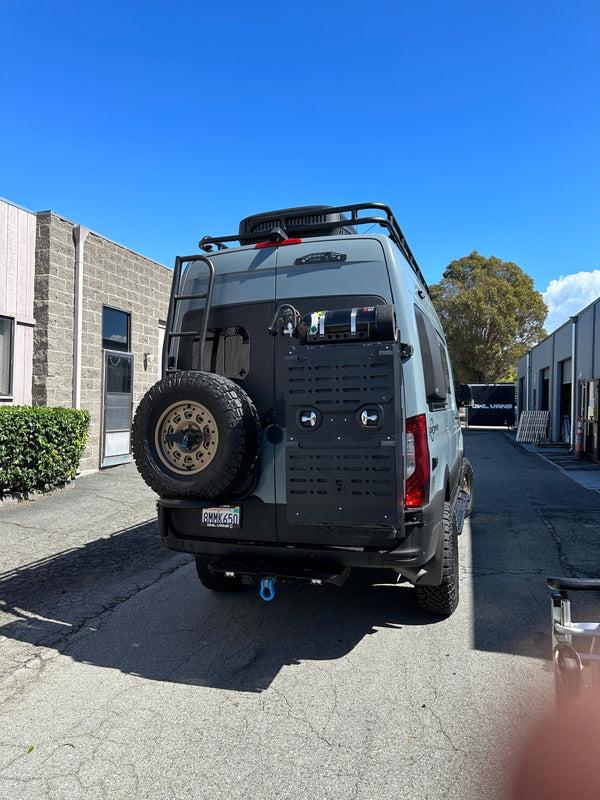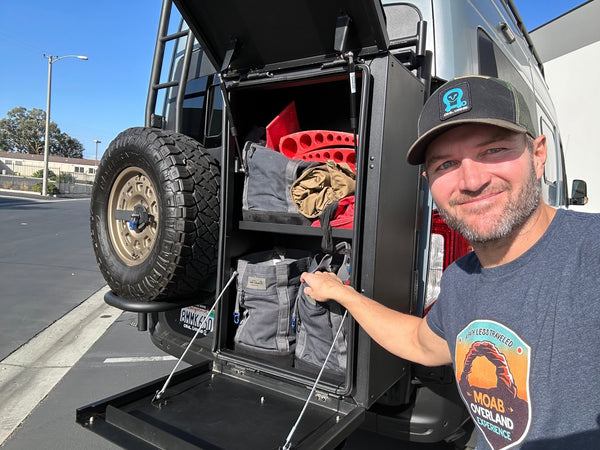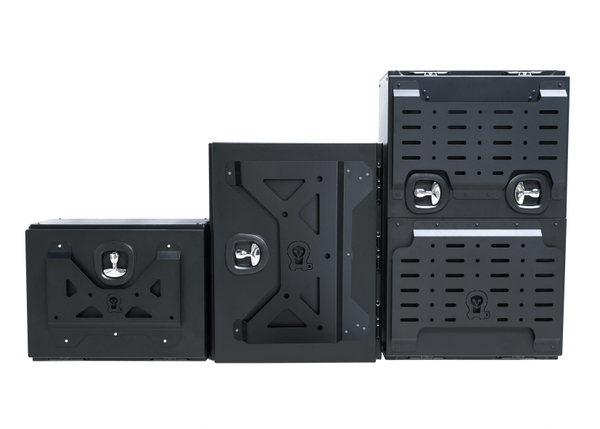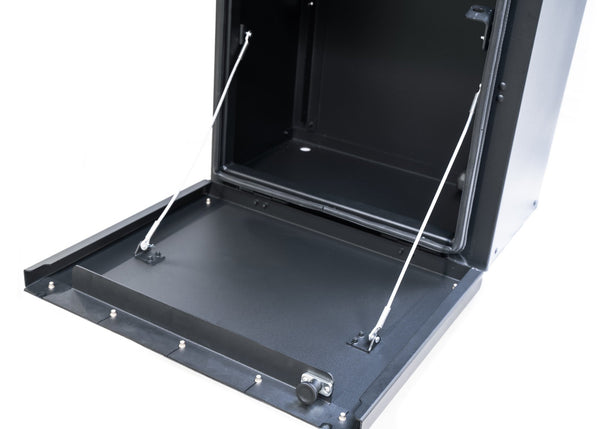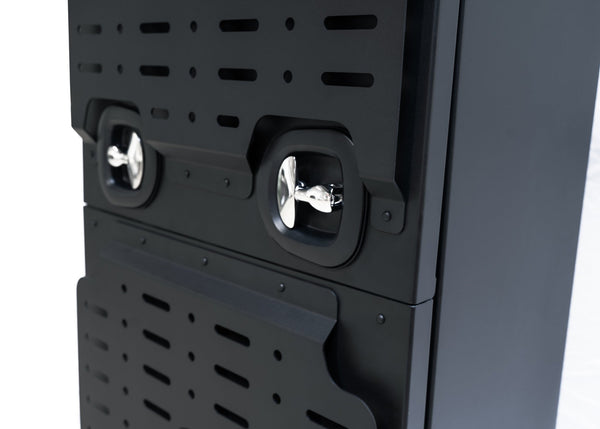 Hands down the biggest box you can buy for your adventures. A box so big we had to call it the Monster. Owl's medium and large Expedition boxes have become the industry standard for high-end builds. We still wanted more, more storage, more features, more...
Size - The biggest box on the market. Owl's new Monster box measures a full 40" (40"x24"x16") and holds 8.8. cubic feet of gear.
Dual-Fold Door - We not only wanted to maximize storage but also provide some new features currently not available in the market. The bottom door folds down providing a stable working area for setting up a grill, food prep or many other tasks. The top door folds up and allows for use of an LED light. Now when you're working at night you can see your work area with just a tap. 
Gear Plates - On the front of the Monster box is Owl's signature hold and slot design allowing you to mount your must-have small trail accessories.
Weight - All aluminum construction means this giant box is still a lightweight (65lbs)
Mounting - While the Monster box can mount to almost anything, it is pre-drilled for the Owl B2 (the recommended mounting structure)
Accessories - To make the bottom door even more work-friendly we CNC'ed a cutting board insert (available soon, sold separately).
Adjustable Shelf - The shelving in the Monster box is adjustable up and down, you can even add an additional shelf if desired. This means you can pack in four Owl Gear Totes and still have some room above! The Monster box comes standard with one adjustable shelf but more can be purchased separately. 
*Note - If you wish to mount bikes above the Monster box (they will be very high) it can be done with the addition of a Mini-Sherpa. Additional holes will need to be drilled in the Mini Sherpa. 
 Lead Time: 2-3 weeks
Trail Tested Gear
Owl offers a highly curated selection based on what we use. Our gear is trusted by the world's top van builders.
We're Here For You
Call us at 866-695-8267 if you have questions. No call centers - our install experts talk with you.
Made in The USA
Owl Vans are engineered for off-road, and hand welded in Arizona.  No one beats our quality. Period.
Canceled Orders
We want all customers to be happy with their purchases but in the event of a canceled order, we cannot recoup the fees charged to us by the credit card companies. When an order is placed, the credit card company takes a percentage of the sale, typically 5%-6% This is money that DOES NOT go to us and we do not get this charge given back to us when we refund an order. Therefore, if someone buys a suspension and then cancels, we pay the credit card company several hundreds of dollars that we cannot get back. Although you may not have noticed, it is industry standard for larger dollar items to have a "restocking fee" of 15% or more. We do our best to charge exactly what we get charged by the credit card company when you cancel an order. In the event of a canceled order, the 5%-6% that the credit card company charges us cannot be refunded. Please make note of this before you order. 
• All canceled orders over $1000 paid with a "Credit Card" will have a 5% credit card processing fee that cannot be returned.
• All canceled orders over $1000 paid with a "Shop Pay Installments" will have a 6% credit card processing fee that cannot be returned.
California Prop 65
WARNING: Some of the products listed contain chemicals known to the State of California to cause cancer and birth defects or other reproductive harm. None of our products are intended to be used in conjunction with clean drinking water unless stated otherwise. For more info please visit www.p65warnings.ca.gov.