Stealth Carbon Fiber Skid Plates [Sprinter]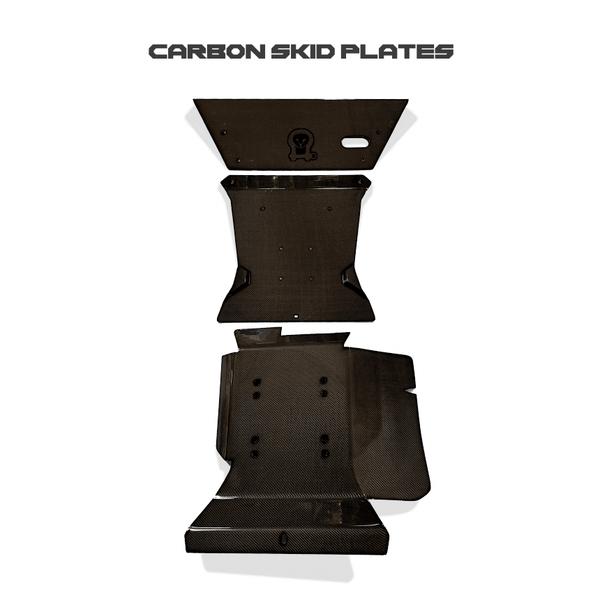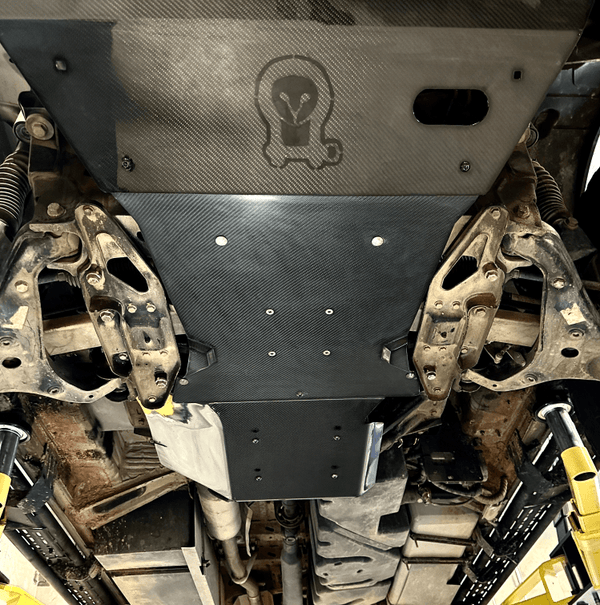 These are IN STOCK. Buy today, ships in less than a week.

We know what you're thinking, carbon fiber skid plates for a 9,000lbs van!? Yes, that is exactly what we did. Why? because they are awesome. Carbon fiber is one of the strongest materials available but also incredibly lightweight. Carbon skid plates have been used on off-road racing trucks for years. The massive advantage of carbon fiber skids is the weight savings and ease of installation. Oh... and we almost forgot, they look badass too.
Details:
Sprinter Vans 2015-2022
Includes 3 skids Plates: Engine Front, Oil Pan, Transmission/transfer case plates
Two front skid options. One for vans with a 2" lift (VC 6.3, 6.5) and one for stock vans (VC4.3, 4.5)
Weight:

Owl Stealth Skids Plates (engine + trans): 15lbs
Standard Skids: 64lbs
Protection:
It is important to keep in mind how the van is used. Vans are more capable off-road than many people know, but they will never be rock crawlers. This means that the skid plates need to be strong for the occasional impact but not continuously bashed by rocks as they would on a built jeep. This means that you can get away with a much lighter setup, with an easier install and a killer look, all while protecting your important bits. 
Additionally, Owl has added a larger edge to the transmission skid to help guard against catalytic converter theft (please keep in mind, no amount of protection can protect you 100%).
Install:
Installing these skids is vastly easier due to their weight. With each plate approximately 5lbs they are simply to hold in place while installing the hardware. With steel/aluminum skids it often requires some gymnastics with jacks or a friend's help. 
For installation, please see our standard skid plate installation video
At the end of the day, we like to push the envelope and come out with unique high-end gear for that customer that wants it just their way. We know these carbon skids are not for everyone, but we hope a few of you are as pumped on them as we are. 

Lead time: In stock (ships in a week)
*Note - Skid Plates are intended to come into contact with obstacles. This contact can cause scratches, dents, cracks, and other wear and tear.  Any damage to skid plates from use is not covered under any type of warranty. 
Trail Tested Gear
Owl offers a highly curated selection based on what we use. Our gear is trusted by the world's top van builders.
We're Here For You
Call us at 866-695-8267 if you have questions. No call centers - our install experts talk with you.
Made in The USA
Owl Vans are engineered for off-road, and hand welded in Arizona.  No one beats our quality. Period.
Canceled Orders
We want all customers to be happy with their purchases but in the event of a canceled order, we cannot recoup the fees charged to us by the credit card companies. When an order is placed, the credit card company takes a percentage of the sale, typically 5%-6% This is money that DOES NOT go to us and we do not get this charge given back to us when we refund an order. Therefore, if someone buys a suspension and then cancels, we pay the credit card company several hundreds of dollars that we cannot get back. Although you may not have noticed, it is industry standard for larger dollar items to have a "restocking fee" of 15% or more. We do our best to charge exactly what we get charged by the credit card company when you cancel an order. In the event of a canceled order, the 5%-6% that the credit card company charges us cannot be refunded. Please make note of this before you order. 
• All canceled orders over $1000 paid with a "Credit Card" will have a 5% credit card processing fee that cannot be returned.
• All canceled orders over $1000 paid with a "Shop Pay Installments" will have a 6% credit card processing fee that cannot be returned.
California Prop 65
WARNING: Some of the products listed contain chemicals known to the State of California to cause cancer and birth defects or other reproductive harm. None of our products are intended to be used in conjunction with clean drinking water unless stated otherwise. For more info please visit www.p65warnings.ca.gov.