Powered Dash Accessory Mount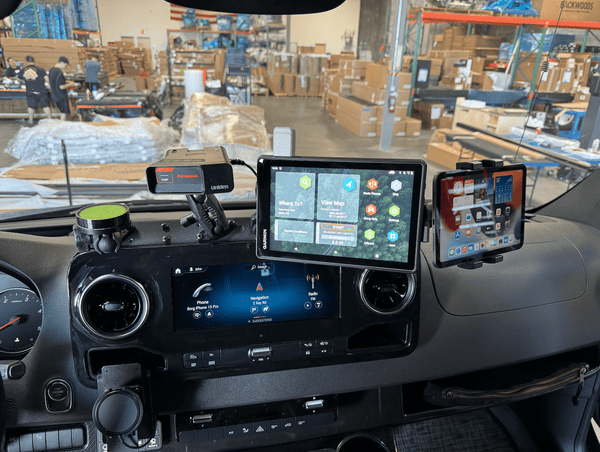 The more time you spend on the road, or off, the more gear you need at your fingertips. From accessing your apps, maps, Garmin, or simply charging ports or accessory mounts. Unfortunately, most gear mount solutions end up looking like the inside of a Uber with too many Amazon purchases. Owl's new dash mount, designed in partnership with Expedition Essentials, builder of some of the world's best dash mounts, mounts a host of accessories while integrating seamlessly into the interior of the cockpit. 
The MSPAM is designed to be a lightweight, strong highly functional accessory mounting solution for the 2019+ Mercedes Sprinter.
Its design allows for the safe placement of Phones, Tablets, GPS, Communication Devices and more.
Constructed from 5052 Aluminum, laser cut and CNC formed and powder coated for ultimate finish and appearance.
Details:
Fits: Sprinter VS30 2019-present 2500 and 3500
14 possible mounting locations
USB A or C port options 
Solid and secure mounting 
Does not include Ram balls or mounting attachments (these can be purchased on Amazon)
Attachments that are AMPS (diamond shape) size B or C fit the mount
Install is on the more difficult side, professional install recommended
Screw size for mounting accessories 10-32 (1/2" long) 
Installation Cost $399 at an Owl Offroad location
*Note The MSPAM is a drill installation- The MSPAM is installed by drilling into the plastic trim bezel behind the radio and in between the dash. The MSPAM does not include mounting accessories 
Trail Tested Gear
Owl offers a highly curated selection based on what we use. Our gear is trusted by the world's top van builders.
We're Here For You
Call us at 866-695-8267 if you have questions. No call centers - our install experts talk with you.
Made in The USA
Owl Vans are engineered for off-road, and hand welded in Arizona.  No one beats our quality. Period.
Canceled Orders
We want all customers to be happy with their purchases but in the event of a canceled order, we cannot recoup the fees charged to us by the credit card companies. When an order is placed, the credit card company takes a percentage of the sale, typically 5%-6% This is money that DOES NOT go to us and we do not get this charge given back to us when we refund an order. Therefore, if someone buys a suspension and then cancels, we pay the credit card company several hundreds of dollars that we cannot get back. Although you may not have noticed, it is industry standard for larger dollar items to have a "restocking fee" of 15% or more. We do our best to charge exactly what we get charged by the credit card company when you cancel an order. In the event of a canceled order, the 5%-6% that the credit card company charges us cannot be refunded. Please make note of this before you order. 
• All canceled orders over $1000 paid with a "Credit Card" will have a 5% credit card processing fee that cannot be returned.
• All canceled orders over $1000 paid with a "Shop Pay Installments" will have a 6% credit card processing fee that cannot be returned.
California Prop 65
WARNING: Some of the products listed contain chemicals known to the State of California to cause cancer and birth defects or other reproductive harm. None of our products are intended to be used in conjunction with clean drinking water unless stated otherwise. For more info please visit www.p65warnings.ca.gov.