Expedition Tire Carrier - VS30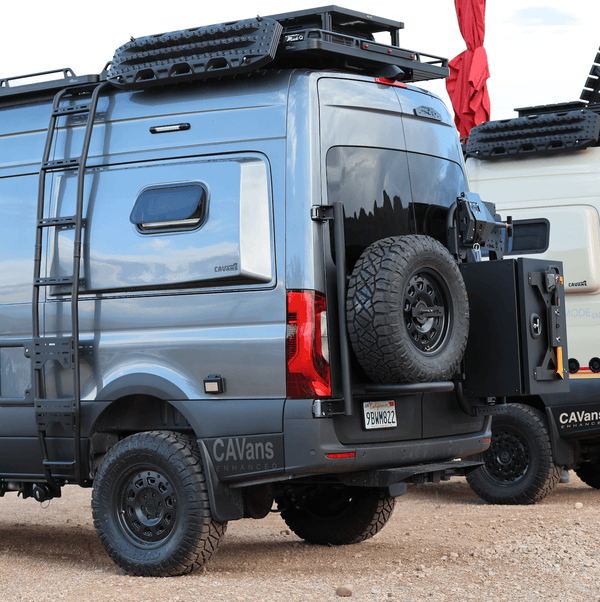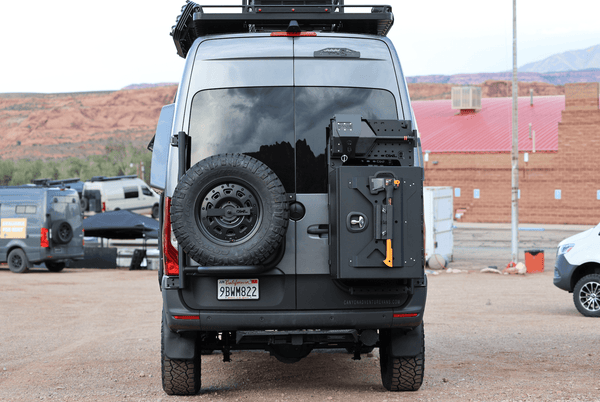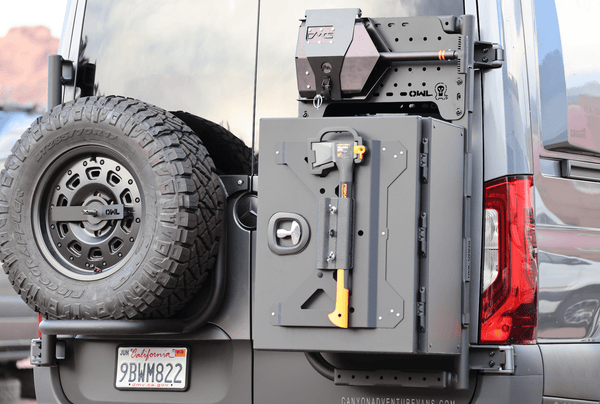 These are IN STOCK. Buy today, ships in less than a week.
Introducing the NEW Aluminum Owl Expedition Tire carrier for 2019 - present Mercedes Sprinter Vans. This unit is hands down the nicest tire carrier you can buy. We didn't want to change the DNA of the Owl carrier that has made it one of the leading products in the industry. We did however want to make it lighter, stronger, and even more versatile. The all-new carrier features all tig welded aluminum frame that allows mounting of a 33" tire or a box (box mounting tabs sold separately). If you're looking for a cheap RV overseas knockoff, you came to the wrong place! :)
We utilize the same structure and mounting points that have made Owl Carriers the most reliable and easiest to install in the industry. Engineered to withstand the toughest roads and harshest environments. This carrier will keep you properly equipped for years to come. 
The Owl Tire Carrier mounts securely to the hinges and requires a single mounting hole be added to the door. Don't worry, we include a mistake-free template and specialty step-drillbit to make installation a breeze!
Patent Pending
INSTALLATION IS $300 AT THE FACILITY
Highlights:


Fits: 2019+ Sprinter & 2020 REVEL (VS30) 2500 & 3500
Color: Black (dual-layer powder coat with self-healing base primer) 
Fits tires up to 275 33". Larger 35" tires can be added but may require slight modification of the plastic emblem.
Lightweight TIG-welded aluminum
DIY friendly with step by step install video
Works with Expedition Handle for mounting accessories
Does not affect parking sensors
Stainless Steel Hardware
Industry-leading reliability 
Compatible with rear wipers
Requires a single hole be added to the door (mistake-free template included)
Requires 180˚ Hinges. If you do not have 180˚ hinges or do not know please see the pics below. You can add 180˚ hinges to your order
NOTE - The bottom hoop no longer has welded box tabs to mount a box (due to 99% of people mounting a tire). If you wish to mount a box, please get a "Box Mounting Tab" from our site in addition to your purchase
Lead Time: In stock
Options:
Hinges: $259 
Hinges installation: $100 
Carrier Installation: $300
Note:
What Type Of Hinges Do I Have?

There are two types of hinges that come on the VS30 MB Sprinter (2019+) vans, 180˚ and the 270˚. Owl carriers require the 180˚ hinges or a set of our modified 270˚ hinges (sold separately). All Winnebago REVELs have the 180˚ hinges. To figure out what type of hinges you have there are a few easy options:

Hinge Comparison:
Look at the attached image. If you have holes in your hinges then you have the 180˚ hinges (top in the image).

If your doors open all the way and fold flat along the side of the van you have the 270˚ hinges.

Verify your hinges before ordering. Owl will not pay return shipping on mistaken orders. If you are unsure ask us! :)
Trail Tested Gear
Owl offers a highly curated selection based on what we use. Our gear is trusted by the world's top van builders.
We're Here For You
Call us at 866-695-8267 if you have questions. No call centers - our install experts talk with you.
Made in The USA
Owl Vans are engineered for off-road, and hand welded in Arizona.  No one beats our quality. Period.
Canceled Orders
We want all customers to be happy with their purchases but in the event of a canceled order, we cannot recoup the fees charged to us by the credit card companies. When an order is placed, the credit card company takes a percentage of the sale, typically 5%-6% This is money that DOES NOT go to us and we do not get this charge given back to us when we refund an order. Therefore, if someone buys a suspension and then cancels, we pay the credit card company several hundreds of dollars that we cannot get back. Although you may not have noticed, it is industry standard for larger dollar items to have a "restocking fee" of 15% or more. We do our best to charge exactly what we get charged by the credit card company when you cancel an order. In the event of a canceled order, the 5%-6% that the credit card company charges us cannot be refunded. Please make note of this before you order. 
• All canceled orders over $1000 paid with a "Credit Card" will have a 5% credit card processing fee that cannot be returned.
• All canceled orders over $1000 paid with a "Shop Pay Installments" will have a 6% credit card processing fee that cannot be returned.
California Prop 65
WARNING: Some of the products listed contain chemicals known to the State of California to cause cancer and birth defects or other reproductive harm. None of our products are intended to be used in conjunction with clean drinking water unless stated otherwise. For more info please visit www.p65warnings.ca.gov.